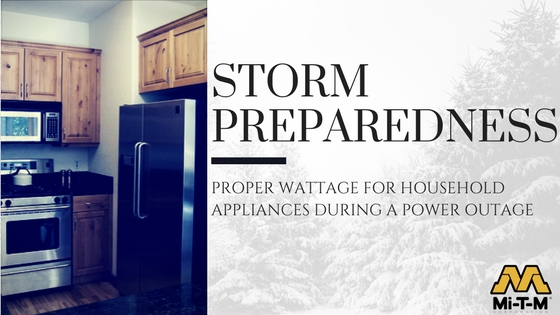 Portable Generators and Proper Wattage for Different Appliances
Snow. Wind. Ice. Electrical storms. All these elements can wipe out your home's power grid in the short- or long-term. Are you prepared? Don't be left in the dark. Let Mi-T-M help you prepare for outages.
Electricity is a commodity most Americans take for granted. But when winter ice storms and spring rains knock out our power, many people go into full panic mode. The news is often full of U.S. cities and entire regions crippled by blackouts.
If your electricity goes out, questions begin running through your mind: How long will our food last in the refrigerator? How will we stay warm? Where can we hear the news? What if our basement floods? Where can we charge our appliances? How will we cook our meals? Is the water safe to drink? How can we open our garage automatic doors?
We can't control the weather, but we can help you plan ahead and prepare for emergencies. Mi-T-M sells a large array of equipment that helps homeowners stay safe during storms and power outages. How? Our generators convert mechanical energy into electricity. For homes, our unique inverters are designed with inverter technology for reduced size, weight, noise, and fuel consumption.
Our generators come in many sizes—from 2,000 watts to 14,000 watts—and types, including portable generators for residential use and commercial models. These rugged machines provide safe, reliable, and quiet backup for your home electrical needs. Different appliances require different levels of wattage as this graphic shows.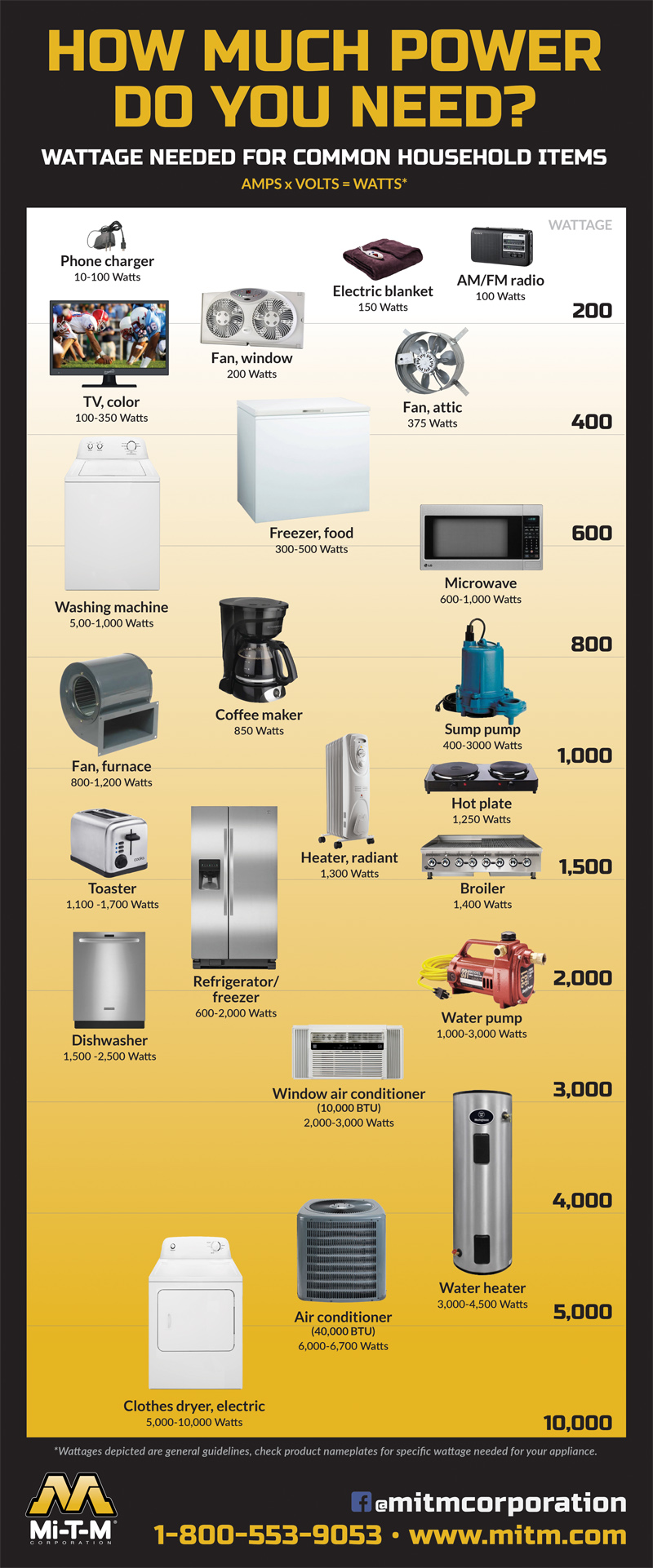 How large a generator should you buy?
Think about your electrical needs during a power outage.
What can't you live without?
Calculate the total wattage of all the appliances you wish to use—wattage can be located on each unit's nameplate or found through on the manufacturer's website—then multiply that number by three.
The total will tell you what size generator you need.
Our smallest units can easily power lights, your phone charger, and/or appliances like your radio. You choose what is most important to you. Larger generator units, for example, can keep your refrigerator running or allow you to watch TV during the power outage.
Mi-T-M's portable generators and inverter units provide peace of mind. Don't be thrust back into the pioneer days of yore. Our high-quality portable generators will return you to the 21st century.
Portable Generator Safety
For your safety—and to prevent carbon monoxide poisoning—all portable generators should be used outdoors only. Do not run a generator in your home, garage, crawl space, attic, basement or any other enclosed area. Instead, place your portable generator on a porch or patio and keep it running outside.
Contact Mi-T-M or one of our dealers today. We'll discuss the best power solutions for all your needs. Click here for more information about how to prepare for power outages.