History
Little did anyone know that in 1971 when AJ Spiegel first constructed a crude, but very efficient pressure washer, the industry would experience such a major contender. It was a self-contained, gas-powered unit producing 1000 PSI. Because of its cleaning ability, Mr. Spiegel quickly referred to the machine as "Mighty" which he abbreviated as "Mi-T" and then added the Roman numeral "M" for the 1000 PSI. Hence, the corporate name Mi-T-M was created.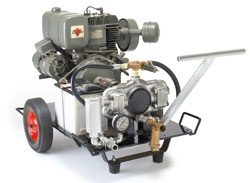 First pressure washer built by AJ Spiegel
Mr. Spiegel's pressure washer experience came from years as a cleaning and painting contractor using 10,000 PSI pressure washers. He recognized the need for small, affordable cleaning equipment and took a calculated risk that the market would be receptive to his new venture. By 1972, Mi-T-M was not only building relationships with local business people, it was establishing a positive reputation in the pressure washer industry.
1978 was a pivotal year for Mi-T-M as the small company began to grow, expanding its work force by more than four times. It was true teamwork. With component consistencies and large inventories given high priority, Mi-T-M was able to meet the demands of a growing customer base. Its first-class sales and service-support team handled all areas of the operation and soon became well known for putting its customers first. By 1982, Mi-T-M had established itself as a major player with over 100 models of pressure washers in its product line.
The Mi-T-M Corporation was born out of an opportunity to fulfill a need and that same philosophy is what drives the company today. Mi-T-M's campus spans over 850,000 square feet and under Spiegel's entrepreneurial guidance, the company has added generators, air compressors, compressor generator combinations, job site boxes, portable heaters, wet-dry vacuums and water treatment systems to its product line - all manufactured in Peosta, Iowa.