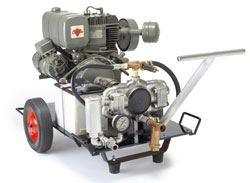 First pressure washer built by AJ Spiegel
In 1971 the Mi-T-M Corporation was founded by A.J. Spiegel, a professional paint contractor, who recognized the need for a portable pressure washer. He used his vast knowledge of equipment to design and build an efficient 1000 PSI pressure washer. The self-contained, gas-powered unit quickly became known as the "Mighty 1000." It wasn't long and the name was abbreviated to "Mi-T," paired with the Roman numeral "M" and became the company name...Mi-T-M.
The first Mi-T-M pressure washer was a major contender in the industry. It was small, portable and affordable. It had significant cleaning capabilities and soon developed a positive reputation in the marketplace. Spiegel spent a substantial amount of time and dedication into building relationships and promoting his new Mighty pressure washer. Before long, Mi-T-M grew and expanded as did their customer base. By 1982, Mi-T-M was a major player with over 100 models of pressure washers in its diverse product line.
The Mi-T-M Corporation was born out of an opportunity to fulfill a need and that same philosophy is what drives the company today. The Mi-T-M campus, located in Peosta, Iowa, spans over 1 million square feet and includes 23 production lines, 11 CSA test rooms, a fully automated 800-foot conveyor line and multiple expansive shipping docks which allow Mi-T-M to manufacture, test and ship hundreds of units and parts every day. Today, Mi-T-M manufactures cold and hot water pressure washers, air compressors, portable generators, air compressor/generator combinations, air compressor/generator/welder combinations, wet/dry vacuums, jobsite boxes, portable heaters, water pumps and water treatment systems.