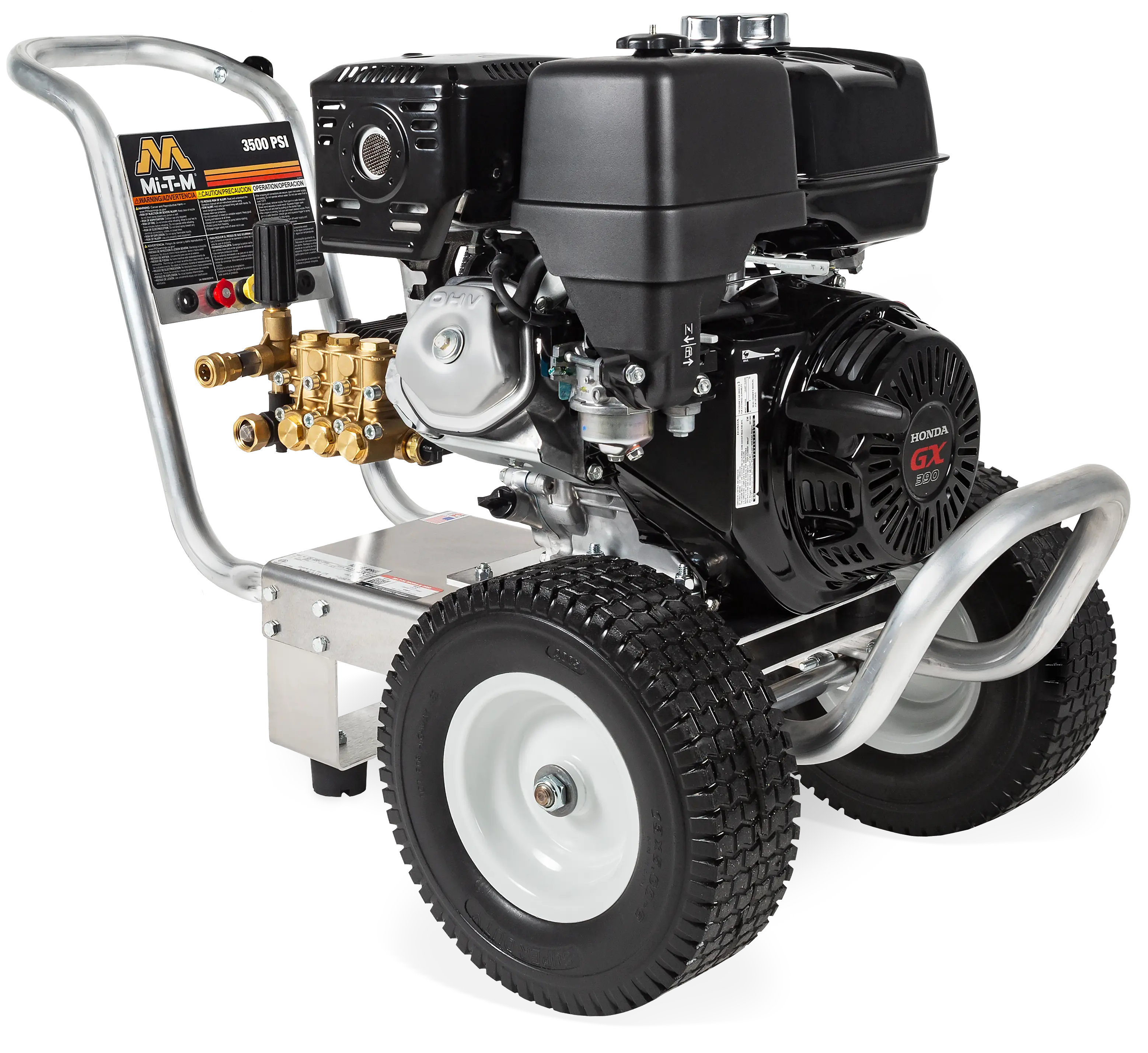 Mi-T-M is one of the largest manufacturers of both hot and cold water pressure washers, offering a wide range of models for use in residential, commercial and industrial settings. Fabricated in the US with only the highest grade material and assembled with only the highest quality components, Mi-T-M pressure washers are well known for their craftsmanship and durability. Available in gas or electric, portable or stationary, Mi-T-M's selection of pressure washers fit virtually every cleaning need.
Not sure which pressure washer is right for you? Mi-T-M has a large network of dealers that can help you find the perfect model. Plus, you can find factory authorized service centers across the country that will perform routine and repair maintenance for this equipment.
Mi-T-M's large network of dealers are experts in the industry and can help you choose the equipment for your specific needs. Plus, you can find factory authorized service centers across the country that will perform routine and repair maintenance for this equipment.
View Mi-T-M Pressure Washers
Pressure Washer FAQs
We know pressure washers and can help you find the answers to your questions.
Are there any benefits of using hot water pressure washers over a cold water pressure washer?

When choosing a pressure washer, your application will play a major factor in whether you need a hot or cold water pressure washer. Cold water pressure washers are ideal for removing dirt on most any surface. Additional accessories like, high pressure nozzles or rotating brushes, work with cold water pressure washers to increase the cleaning power and decrease your cleaning time.

However, if you are cleaning surfaces that have grease or oil on them, hot water is a must. You wouldn't think of washing your greasy hands with cold water and the same applies to pressure washing. If you operate cold water equipment more than a few hours a week, you should consider the labor savings you could realize by switching to a hot water pressure washer.
Should I choose a belt driven pressure washer or direct drive?

Belt driven pressure washer are most commonly found on commercial and industrial jobsites. A belt driven pump is ideal for cleaning applications that require more than 20+ hours per week. On a belt driven unit, the high-pressure pump spins at a less RPM reducing the heat and vibration, which in turn, minimizes the wear and tear on the internal parts of the pump and leads to longer life.

If you will be using your pressure washer less than 20 hours a week, a direct drive may be better suited for your application. Direct drive units turn about twice the RPM as a belt driven unit. These units are usually more compact and easier to transport. They also typically are more cost effective.
How do I choose between a gas and electric powered pressure washer?

Gas or electric is completely up to the consumer. There are pros and cons to both.

Electric is safe to use indoors because you don't have harmful fumes. Electric motors are usually quieter and require less maintenance than a gas engine. Also, with an electric motor you do not have to have gas on hand and you do not need to fight the rising cost of fuel prices.

With a gas pressure washer you have a couple of different choices when selecting an engine. Also, gas engines don't require a power cord which in turn allows more portability.
Which is more important PSI or GPM?

PSI and GPM are both equally important when choosing a pressure washer. The PSI refers to the amount of pressure and GPM refers to the flow. You must have the correct combination of PSI and GPM to have the most ideal pressure washing system for your needs.

To clean effectively, a pressure washer must provide a "stripping" action to scrub off the dirt and "flow" to move the dirt away. Think of the pressure (PSI) as the stripping force that is applied to the surface you are cleaning and the flow (GPM) as the rinsing power that carries the dirt away.

PSI (Pounds per Square Inch) refers to the amount of cleaning pressure that the unit can produce.

GPM (Gallons per Minute) is the amount of water that is coming from the unit.

Cleaning Units (CU) is the result of multiplying the PSI by the GPM. Cleaning units gives the customer a measure of unit performance (efficiency) to compare one unit to another. Cleaning units is calculated by multiplying PSI and GPM.

For example:

A pressure washer with 3000 PSI and 2.0 GPM has 6000 Cleaning Units
A pressure washer with 2000 PSI and 3.0 GPM also has 6000 Cleaning Units but the rinsing power is greater than the stripping power.

GPM is usually more important to contractors than PSI. Since most contractors use cleaning chemicals to do all of the cleaning, their job becomes one primarily of rinsing the dirt away.
View More FAQs