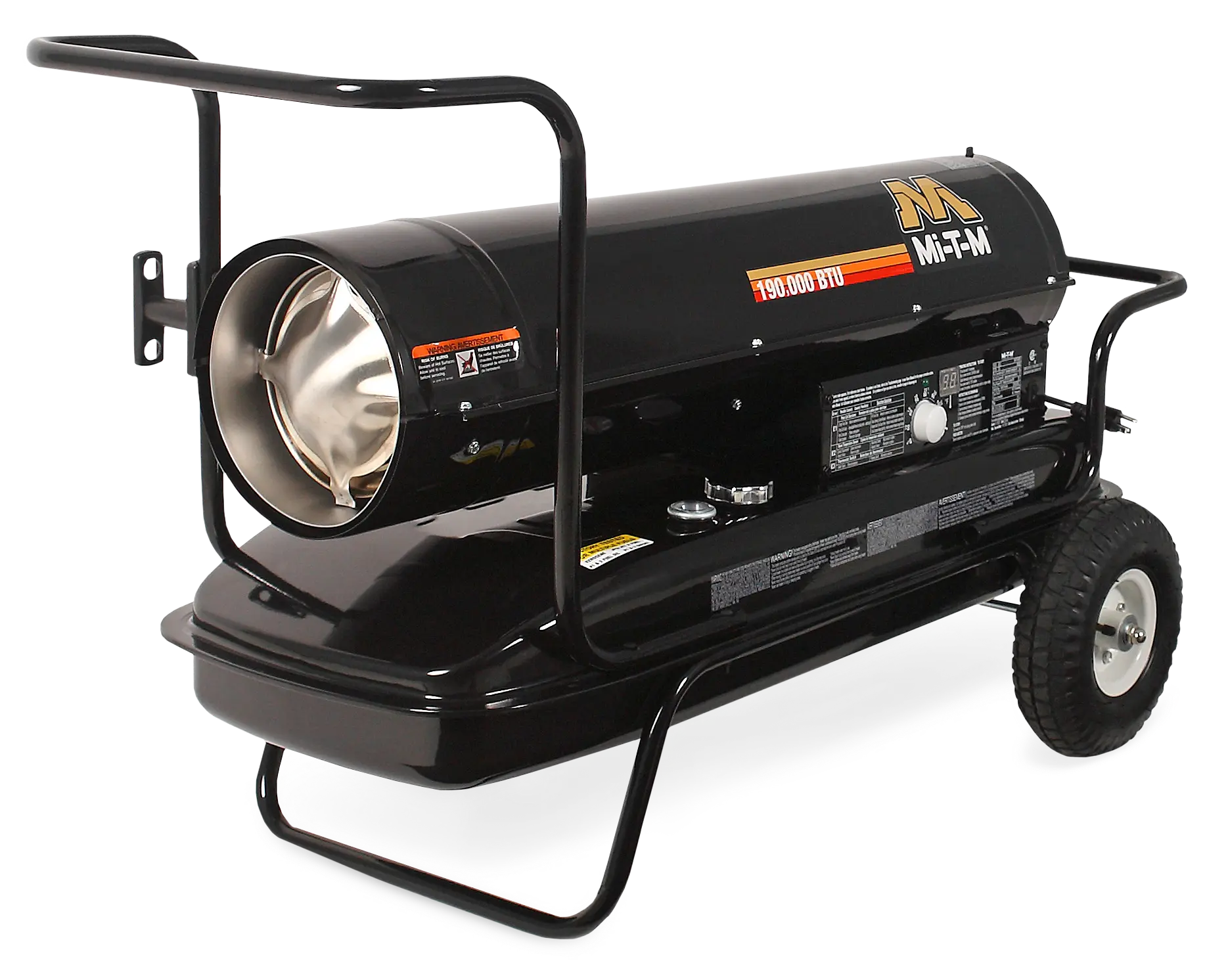 You'll find Mi-T-M portable heaters provide instant and consistent heat for a variety of jobsites and spaces. Using either kerosene or propane gas as a power source, Mi-T-M heaters are suitable for small to large areas utilizing forced air, convection or radiant heat. Great for use in well vented areas, a Mi-T-M portable heater offers reliable heat for a more comfortable environment.
Mi-T-M's large network of dealers are experts in the industry and can help you choose the right portable heater for your specific needs. Plus, you can find factory authorized service centers across the country that will perform routine and repair maintenance for this equipment.
View Portable Heaters
Portable Heater FAQs
We know portable heaters. Find the answers you're looking for right here.
Can Mi-T-M heaters be used indoors?

No, fuel burning portable heaters are intended to be used only in a well ventilated area
How do I size a space heater?

The most important factor when sizing a space heater is the amount of space you have to heat. A general rule of thumb is that you can heat approximately 25 square feet for every 1000 BTUs a heater puts out.
Do all portable heaters require electricity?

Mi‑T‑M portable heaters that have a blower motor or a fuel pump will require electricity to power those units. As an example, all of the Kerosene forced air, LP & Natural Gas forced air and the radiant portable heaters require electricity. The convection, outdoor patio heater and the tank top heaters do not require electricity.
Are portable heaters safe?

Portable heaters are safe when used properly. Portable heaters that use fuel to operate should never be used indoors or anywhere that is inadequately ventilated. Mi-T-M carries a full line of portable heaters and, depending on the model, come with an overheat safety component, or shut-off valve. Always refer to the manufacturer's manual and use safety precautions when operating this type of equipment.
View More FAQs