Base-Mount Two Stage Gasoline Combination - AG2-SH13-BE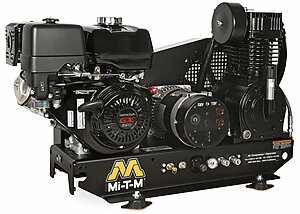 AG2-SH13-BE
Combining two machines into one, this air compressor/generator combination unit is great for completing multiple jobs requiring both air power and electricity.
Compressor Pump
Cast iron compressor pump · Splash lubricated · Stainless-steel braided discharge hose · Large canister intake filter · Oil level sight indicator
Generator
Brushless alternator · Total harmonic distortion (THD) less than 6% · 100% copper windings · (2) NEMA 5-20R 120V, 20A and (1) NEMA L6-20R 240V, 20A receptacles
Frame
3/16-inch base plate to reduce vibration · Powder coated two-piece belt guard
Components
Regulator and two gauges for tank and outlet pressure · Manual drain valves for proper maintenance · 12 or 16 ½-inch fly wheel · Quality pilot valve unloader
Equipped with 150-PSI maximum rated regulator.
49 state engine. Not for sale in California.
Equipped with electric start – battery, box and cables not included.
Specifications
CFM @ PSI

16.4 @ 90

CFM @ PSI

15.7 @ 175

Alternator Wattage: Max. Output

4000 watts

Alternator Wattage: Cont. with Comp. On-Load

2300 watts

Alternator Wattage: Cont. with Comp. Off-Load

3500 watts

Displacement/ Engine

389cc Honda GX390 OHV
Weights & Dimensions
Net Weight

332.00 lbs.

Shipping Weight

397.00 lbs.

Length

47.00 in.

Width

22.00 in.

Height

28.00 in.
Options
IX-0055 Remote Start/Choke

7-foot wire extension for key switch

IX-0059 Remote Start/Choke

7-foot wire extension for key switch, sealed cable

AX-0063 Lifting Hook

For easier portability

AX-0068 Idle Down

When activated it automatically throttles down engine to conserve fuel

AX-0070 Battery Tray, Box and 2-Foot of Cables

Attaches to engine side of unit

AX-0016 Battery, Battery Tray, Box and 2-Foot Cables

Attaches to engine side of unit
Warranty Information
2 Year Alternator
2 Year Pump Exchange
3 Year Honda Engine