Residential Air Compressors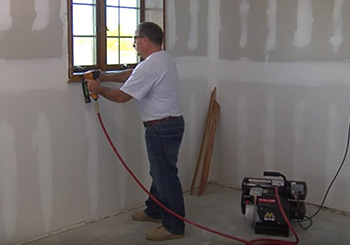 Click for larger image
Limited Warranties:
1 Year Electric Motor
1 Year Compressor Pump
Air Compressor FAQs
We know air compressors. Find the answers you're looking for right here.
Learn More

»
Residential Air Compressors
With plenty of power for your weekend DIY project the electric air compressor from Mi-T-M is easy to use and extremely portable. Available in three tank sizes, 3, 4 and 5-gallon, you can choose the size that best fits your needs. The high-quality electric motor offers thermal overload protection and a 1-year warranty.
Electric
The Work Pro 90 PSI single-stage air compressors feature either a 1.5 or 2.0 horsepower motor and come in tank sizes of 3, 4 or 5-gallon. Besides inflating everything from tires to pool toys, these compact tools will operate pneumatic staple guns and paint sprayers making them an extremely versatile tool for any homeowner.
Work Pro Electric Air Compressors

-Available in 3, 4 and 5-gallon tank sizes
Videos
Links / Blog Articles