Mi-T-M manufactures a full line of pressure washers for Light Duty, Medium Duty, and Contractor Duty cleaning.
The Mi-T-M Light Duty pressure washer is ideal for the do-it-yourselfer when cleaning around the home.
It's perfect to use for about 2 to 5 hours per week and is used to clean decks, gutters, siding, patio furniture, and vehicles.
Mi-T-M's Medium Duty Choremaster and Work Pro Series pressure washers are rated for 5 to 10 hours of use per week.
Often used on commercial properties, these medium duty pressure washers are great for removing mold, mildew and light stains from hard surfaces.
These units are convenient for equipment maintenance, and very useful for upkeep on multi-unit properties.
The Contractor Duty Job Pro Series pressure washers are best for 10 to 30 hours per week.
Contractors use these pressure washers for paint preparation, concrete and brickwork, heavy duty mold and mildew removal, and large deck and surface restoration
How do you choose which Mi-T-M pressure washer is right for you? When purchasing a pressure washer, consider these key factors:
Cleaning units
Engine Hour Rating
Pump Hour Rating
Warranty
Cleaning Units are a measure of power and will give you an idea of how fast you can clean. Simply multiply the PSI and the GPM of a pressure washer. The result is the total number of cleaning units. The higher the cleaning units, the quicker you can clean.
Let's compare the Medium Duty Choremaster 3200 pressure washer to the Contractor Category's Job Pro 4000.
The Choremaster 3200 gives you 3200 PSI at 2.4 GPM, for a total of 7,680 cleaning units.
The Job Pro 4,000 Direct Drive delivers 4,000 PSI at 3.5 GPM, for a total of 14,000 cleaning units.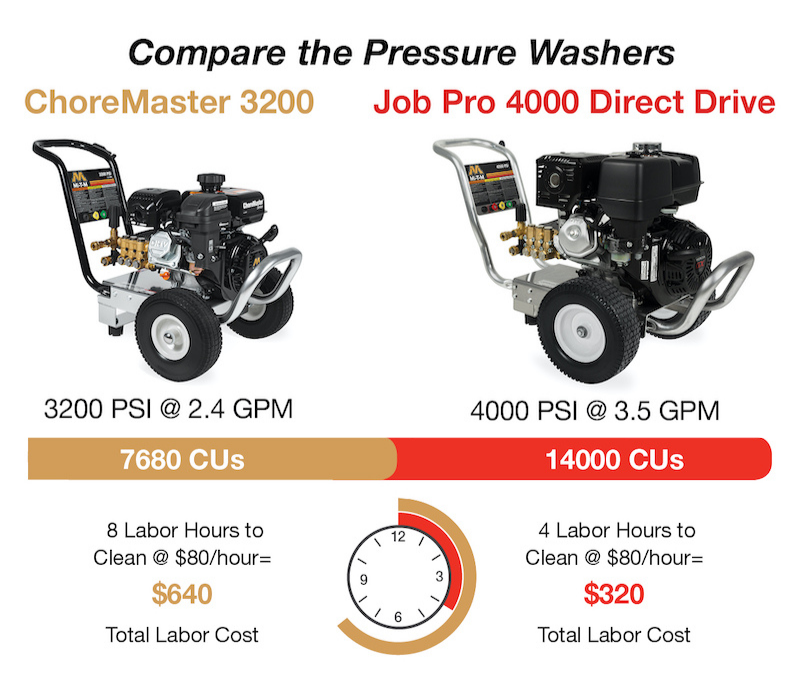 As you can see, Mi-T-M's Contractor-Duty 4000-PSI pressure washer will clean almost twice as fast because you have nearly double the cleaning units.
No matter which you choose, all Mi-T-M pressure washers are dependable and built to last for years.
For help choosing the right pressure washer for your needs, contact Mi-T-M today!