Pressure Washer Surface Cleaner
If you have a large, flat, outdoor area to clean, Mi-T-M pressure washer surface cleaner is a great solution. Use it on wooden decks, patios, driveways, sidewalk and parking lots. This pressure washer accessory can outperform any pressure washer and nozzle combination in this application.
It is important to clear away loose and large debris that could impede the motion of the surface cleaner.
After connecting the water supply to the pressure washer, attach the surface cleaner to the high pressure hose, much like you would a standard wand assembly, making sure all connections are firmly in place.
Turn on the water and start the pressure washer.
Release the safety latch and squeeze the trigger gun.
The spray bar under the surface cleaner will begin to rotate and create pressure, allowing the surface cleaner to glide along the surface.
It is important to keep the surface cleaner moving to ensure an even cleaning pattern.
As an added benefit, the surface cleaner hood contains the overspray, virtually eliminating additional clean up.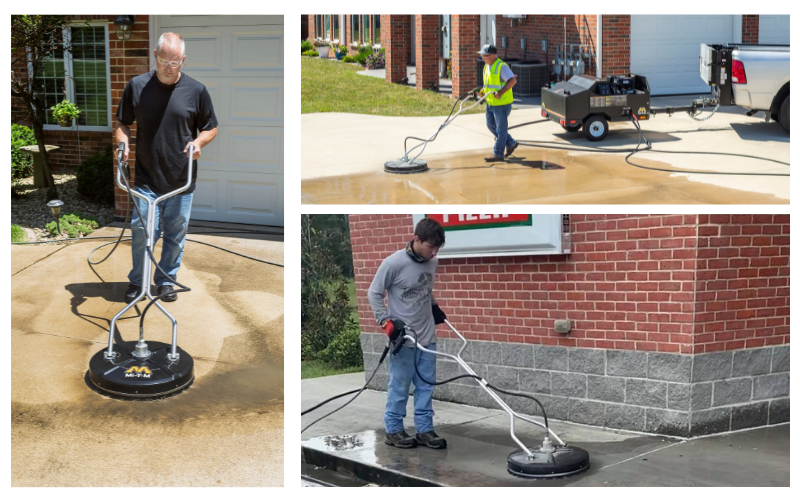 The Mi-T-M pressure washer surface cleaner can cover a large area quickly using less water, reducing your cleaning time, and giving you professional looking results.
Thanks for watching this tutorial on the pressure washer surface cleaner. For more tutorials on how to use a pressure washer and other pressure washer accessories, visit our channel on Youtube.
Pressure Washer Surface Cleaner FAQ
We know pressure washer surface cleaners. Find the answers you're looking for right here.