Chemical/Liquid Fertilizer Pump 3-Inch - WTP-F03-1MGME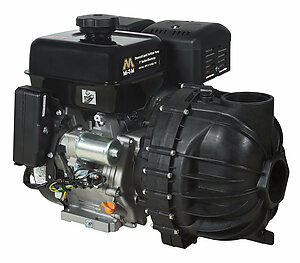 Click for larger image
WTP-F03-1MGME
These high-volume pumps are designed for chemical and liquid fertilizer transfer to maximize uptime in the field and the polypropylene housing makes them suitable for corrosive environments.
Components: Poly impellers with stainless-steel inserts can handle solid suspended particles up to 3/8-inch diameter · Polypropylene housing that is suitable for corrosive environments · Self-priming capabilities with maximum suction lift up to 25-foot · EPDM mechanical seal and inlet valve for longevity and reliability
Electric start - battery not included.
Specifications
Suction Discharge Size

3 in.x3 in.

Max. GPM

440

Max. PSI

54

Max. Suction Lift

25 ft.

Displacement/ Engine

420cc Mi-T-M OHV
Weights & Dimensions
Net Weight

93.00 lbs.

Shipping Weight

102.00 lbs.

Length

23.50 in.

Width

19.50 in.

Height

17.50 in.
Videos
Links / Blog Articles