Two Stage Gasoline 20-Gallon - AGW-SH22-20M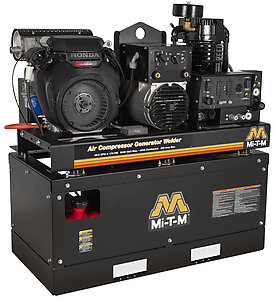 AGW-SH22-20M
This AGW Series combines an air compressor, generator and welder into one machine, making it the complete on-site unit to efficiently tackle numerous jobs at once.
Compressor Pump
Cast iron compressor pump · Splash lubricated · Stainless-steel braided discharge hose · Large canister intake filter · Oil level sight indicator
Generator
Brush-type 2 pole 120V/240V alternator · Total harmonic distortion (THD) less than 6% · 100% copper windings
Welder
Amperage selection switch, 170A or 220A maximum
Frame
Powder coated ASME receiver tank · Powder coated four-piece belt guard
Components
Regulator and two gauges for tank and outlet pressure · Manual drain valves for proper maintenance · 16 1/2-inch fly wheel
AGW Series Operation
Generator Mode
AC current only · Selector switch set to idle down · Switch is set to full throttle
Welder Mode
DC current only · Engine must be running full throttle · Selector switch must be set to full throttle
All models sold in California are required to have the AX-0080 CARB compliant fuel tank.
Equipped with 150-PSI maximum rated regulator.
Specifications
Displacement/ Engine

688cc Honda GX690 OHV with Electric Start - Battery Cables Included; Battery Not Included

Rated Speed

3600 RPM

CFM @ 90 PSI

30.5

CFM @ 175 PSI*

29.0

Tank Size

20-gallon

Max. AC Output

5000 watts

Rated AC Output

4500 watts

Alternator Wattage: Cont. On-Load @ 90 PSI

4500 watts

Alternator Wattage: Cont. On-Load @ 175 PSI

4500 watts

Frequency/Voltage

60Hz/120V/240V

Max. Amps (120V/240V)

41.5/20.8

Cont. Amps (120V/240V)

37.5/18.8

Receptacles

(2) 120V, 20A GFCI Duplex; (1) 120V/240V, 20A Twist Lock

Duty Cycle (10 Min. Run Time)

220A @ 40%, 190A @ 60%, 150A @ 100%

DC Voltage

50-220A Working Range

Fuel Tank

10-gallon
Weights & Dimensions
Net Weight

803.00 lbs.

Shipping Weight

870.00 lbs.

Length

47.00 in.

Width

24.00 in.

Height

50.00 in.
Options
IX-0001 Vibration Isolator Pads

Isolators protect the unit from vibration during use; recommended for models that are mounted in service truck applications

AX-0080 California Compliant Fuel Tank

Replaces the EPA plastic fuel tank with a CARB approved painted steel tank; required for California models
Videos
Links / Blog Articles
Warranty Information
2 Year Alternator
2 Year Pump Exchange
3 Year Honda Engine