Air Compressors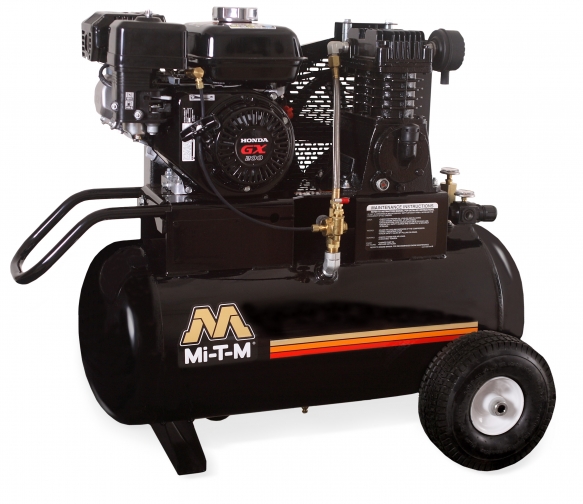 Mi-T-M began manufacturing portable air compressors in 1999 as an extension of the existing industrial and contractor-grade equipment. Sixteen model were first introduced ranging from small electric hand carry 4-gallon air compressor models to gasoline models with a 20-gallon capacity. In 2000, seven more models were added to our line of air compressors, including large capacity 60 and 80-gallon air compressor models.
Today, Mi-T-M manufactures over 30 models of air compressors giving customers a choice from electric or gasoline, single-stage or two-stage, and portable or stationary.
View Mi-T-M Air Compressors

»
Air Compressor FAQ
What size of compressor do I need?
In order to determine what size compressor will meet your requirements you need to establish how it will be used. For example, if you will be using it to power air tools, then you need to determine the CFM of each tool. There are many applications for air compressors. If you need help deciding which size is best for you, please contact Mi-T-M at 800-563-9053 and we will be happy to assist you.
How much air pressure do I need?
Air pressure is determined by the highest minimum pressure requirement. For example, some tools consume more air than others. Tools such as pneumatic nail-guns and staplers consume smaller amounts of air, while air grinders and sprayers consume larger amounts. Most tools have an usage rating for CFM consumption at a recommended PSI. This can be found on the tool itself or in the owner's manual supplied by the tool manufacturer. Click here to view our Air Equipment Estimating Guide Link to Air Equipment Estimating Guide
Find answers to other frequently asked questions

»