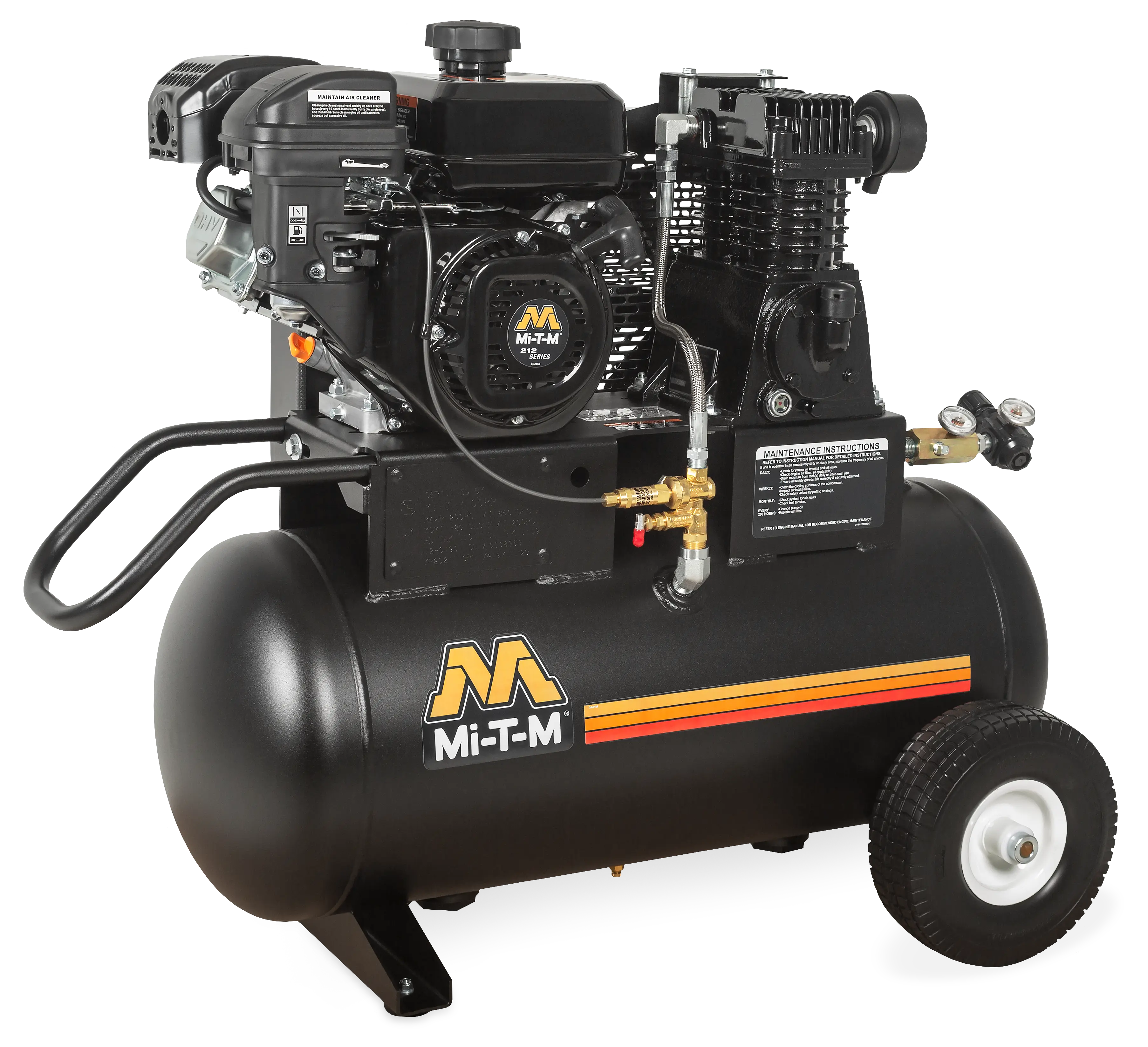 Trends in the industry have influenced the demand for affordable, high quality air compressors and Mi-T-M manufactures a wide variety for both for the do-it-yourselfer and professional contractor in a wide range of air power. Offering many models, from hand carry and portable to industrial trailer-mount units, Mi-T-M air compressors are built with only the highest quality components and a tough powder coat finish.
Mi-T-M's large network of dealers are experts in the industry and can help you choose the right air compressor for your specific needs. Plus, you can find factory authorized service centers across the country that will perform routine and repair maintenance for this equipment.
View Mi-T-M Air Compressors
Air Compressor FAQs
We know air compressors and can help you find the answers to your questions.
What are the advantages of using compressed air vs. other power sources?

The advantages are many and are summarized in the following list:

Safety is one of the biggest advantages. Electrical shock potential is greatly reduced.
Typically, pneumatic tools will weigh less than electric tools and make the tools more ergonomically friendly.
Compressed air has more flexibility than electrical tools because the compressor can be made to be mobile. Either in the case of engine driven units or wheeled portables that can be moved around at the job site.
Compressed air can be regulated which permits varying pressure range uses within one piping system.
In almost all cases, the air tool's initial purchase cost is less than comparable electric or hydraulic tools.
Compressed air distribution systems are easier and less costly to install than electrical grids and less demanding than hydraulic system lines. The compressed air system can be modified for multiple points of use.
Air tools have less maintenance and down time than hydraulic tools. They also will not burn the air tool motor up like an electric tool could in low electrical voltage situations.
Air tools run cooler because the expanded air dissipates the heat of operation as the air passes through the tool.
Compressed air system leakage will not contaminate a work place
Does a new compressor have to be broken in?

No, it does not. However after an install, you should power up the system from 0 to whatever the cut-off pressure is and check for any leaks that may be present.
What size of compressor do I need?

In order to determine what size compressor will meet your requirements you need to establish how it will be used. For example, if you will be using it to power air tools, then you need to determine the CFM of each tool. There are many applications for air compressors. If you need help deciding which size is best for you, please contact Mi‑T‑M at 800-553-9053 and we will be happy to assist you.
How much air pressure do I need?

Air pressure is determined by the highest minimum pressure requirement. For example, some tools consume more air than others. Tools such as pneumatic nail-guns and staplers consume smaller amounts of air, while air grinders and sprayers consume larger amounts. Most tools have an usage rating for CFM consumption at a recommended PSI. This can be found on the tool itself or in the owner's manual supplied by the tool manufacturer. Click here to view our Air Equipment Estimating Guide.
View More FAQs