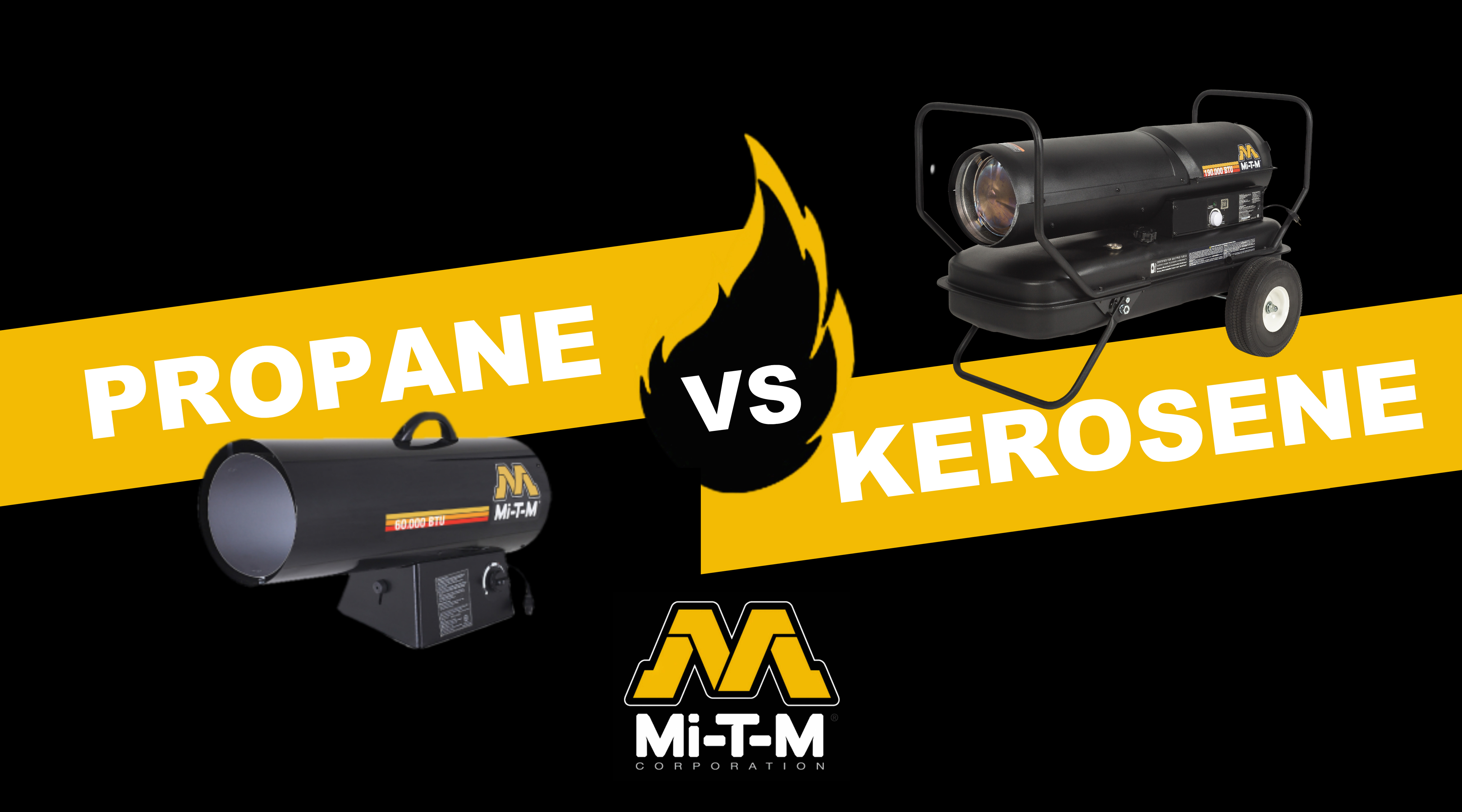 Kerosene or Propane Portable Heater
If you spend a lot of time outdoors or working in your garage or workshop, you know sometimes the temperatures can be unfavorable. This is where propane and kerosene heaters from Mi-T-M come in handy to keep you warm all year round. With dozens of portable heaters to choose from, it may be hard to decide which is right for you. This article will help you understand the difference of kerosene vs propane heaters.
As you begin shopping, here are 4 questions you should ask yourself before making a purchase:
Firstly, you need to decide where and when will you use the heater. We recommend different models for different uses. In a ventilated garage or on a worksite where you would need a propane heater indoors, you might prefer a kerosene forced air model. For dinner parties on the deck, try our outdoor patio heater.
Secondly, do you prefer a kerosene or propane model? Kerosene is combustible, burns strongly and offers a strong amount of heat. By contrast, propane burns cleaner and tanks can easily be found at most gas stations and grocery stores.
How long will you need to run the heater? A propane model running off a 20-pound propane cylinder set at low will last for up to 72 hours and set at high will last for 24 hours, depending on the model. However, if you just need some warmth while you're in your garage, you might prefer a kerosene forced air heater.
Will you need to carry the heater long distances? If so, you will need to consider the weight and wheel kit of each model. Many units already feature wheel kits for portability, so make sure to consider how far you will need to transport your heater to and from jobsites and work areas.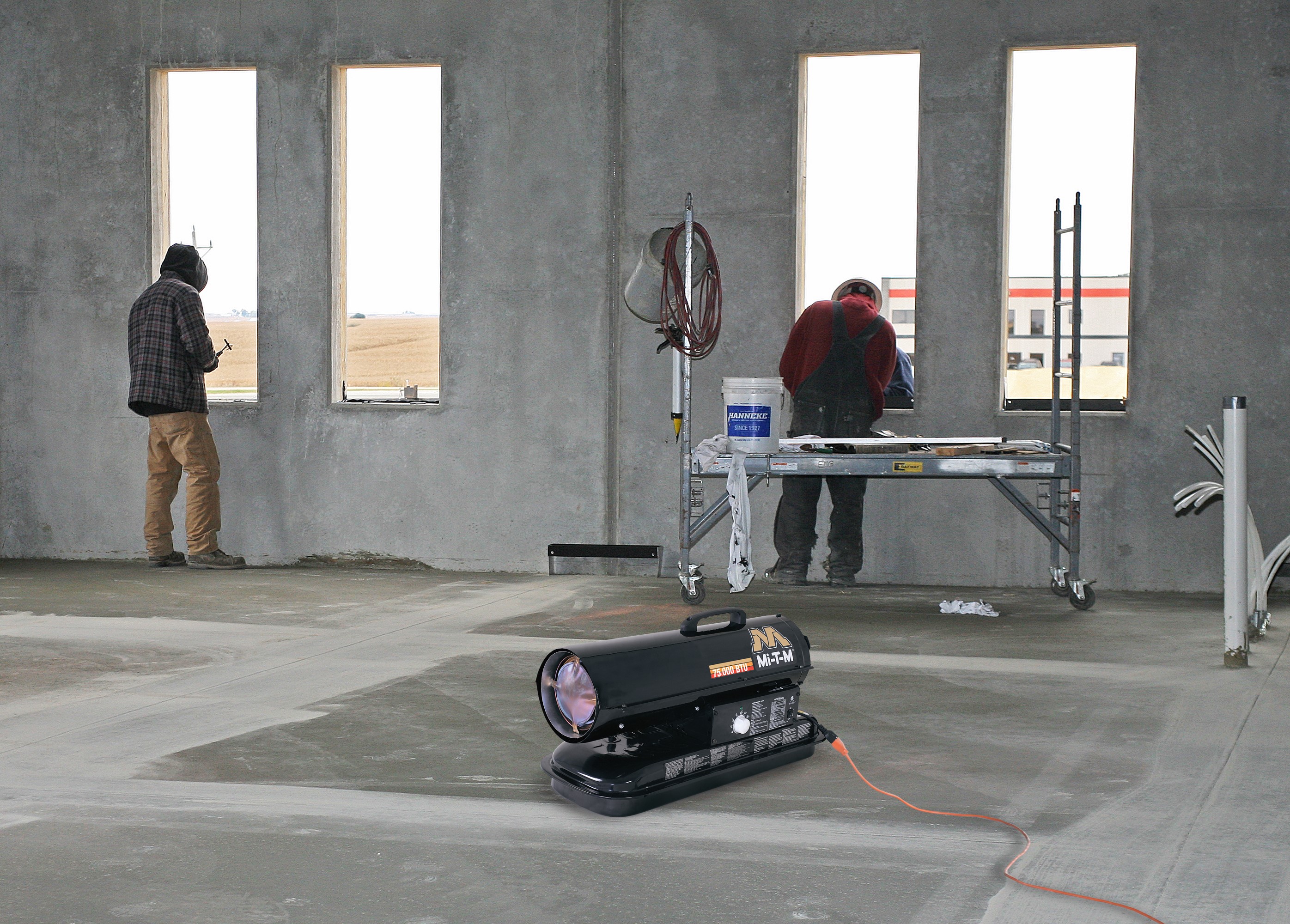 Portable Kerosene Heaters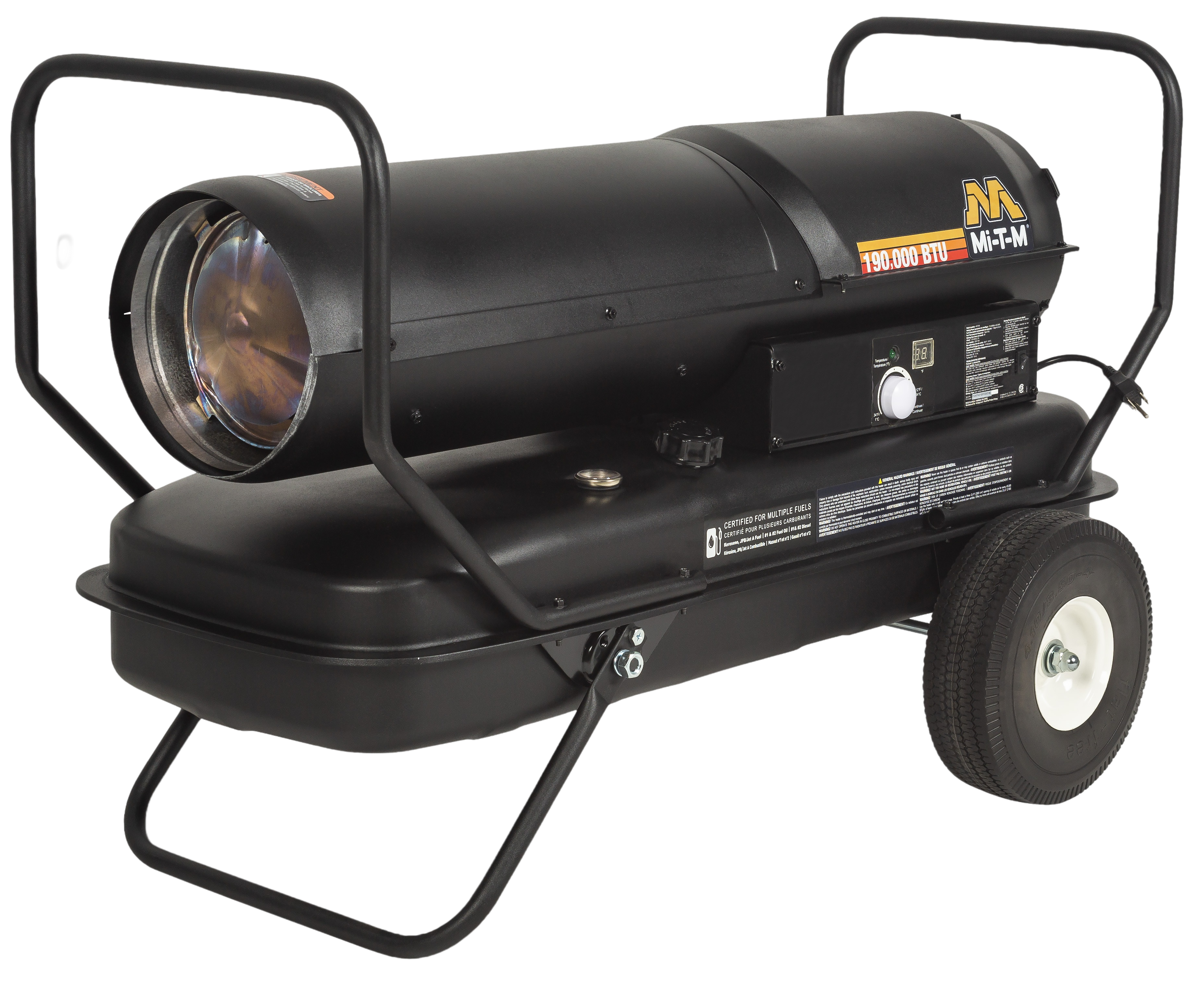 The heat from our models of kerosene heaters—measured in British thermal units (BTU's)—range from 75,000 up to 600,000 BTU's per gallon. Mi-T-M's kerosene air heaters provide dependable heat for large ventilated areas up to 15,000 square feet. They feature built-in temperature control and sure start ignition.
Portable Propane Heaters
Mi-T-M propane heaters offer 40,000 up to 375,000 BTU's per gallon. Mi-T-M's propane heaters are lightweight, portable and ideal for drying and heating well ventilated workspaces. Mi-T-M offers several options of propane heaters, including forced air propane heaters that are perfect for jobsites, propane tank-top radiant with variable heat controls, propane radiant outdoor patio heater and our propane cabinet utility heater. Just add a propane cylinder, plug in your heater and stay comfortable in cold temperatures.
Portable heaters can be used in a variety of situations and locations – for emergency power outages, to heat outdoor events, in ventilated garages and work areas, on construction sites and much more. Wherever and whenever you need warmth, a portable heater is the perfect solution.
For more information on Mi-T-M heaters, frequently asked questions, videos and more, visit our heaters page.
For questions and to purchase a Mi-T-M heater, call or visit your local Mi-T-M dealer.