HS Series Gasoline Belt Drive - HS-4004-1MAH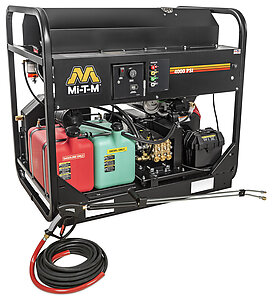 Click for larger image

Limited Warranties:
3 Year Coil
3 Year Honda Engine
7 Year AR Pump
HS-4004-1MAH
The rugged skid frame of the HS Series makes it a great option for mounting on a trailer, giving you the capability to clean dirt, oil and grime literally anywhere.
Pump: External bypass system protects from heat build-up · Factory preset unloader · Forged brass manifold · 80-mesh, high volume, stainless-steel screen inlet water strainer
Engine: Electric start - sealed battery included
Frame: Heavy-duty powder coated steel frame
Components: 2900-watt generator · Heavy-duty dual cogged belt drive system · No. 1 or No. 2 diesel or kerosene fired burner (Not approved for bio-fuel) · 1/2-inch schedule 80-coil with stainless-steel wrap
Miscellaneous: Temperature rise 150°F/66°C above ambient, maximum outlet temperature is 200°F
Unit Includes: Quick connect nozzles - 0°, 15°, 25° and 40° · 50-foot x 3/8-inch steel wire-braided hose · Adjustable pressure insulated dual lance with trigger gun
Model equipped with trapping unloader, all other models equipped with K7 flow actuated unloader
Note: All gasoline models sold in California are required to have the HX-0287 CARB compliant fuel tank.
Specifications
PSI

4000

GPM

4.0

Displacement/ Engine

688cc Honda GX630 OHV

Pump

AR

Engine Fuel Tank Capacity

10.0 gallon

Burner Fuel Tank Capacity

10.0 gallon

Burner Fuel Cons.

2.76 gph

BTU Per Hour

386,400
Weights & Dimensions
Net Weight

750.00 lbs.

Shipping Weight

854.00 lbs.

Length

50.00 in.

Width

34.00 in.

Height

46.00 in.
Options
HX-0130 Three-way Ball Valve

Allows pressure washer to be operated from garden hose/float tank or trailer supply tank by adjusting ball valve lever

HX-0142 Steam Combination 250°F

Increases outlet temperature to 250°F

HX-0145 Adjustable Thermostat

Operator is able to adjust outlet water temperature between 86°F-248°F

HX-0146 Hour Meter

Displays the number of hours unit has been in operation

HX-0147 Four Point Lifting Capability

Allows unit to be lifted by crane

HX-0148 Adjustable Detergent Valve

Supplies soap injection through the high pressure pump while spraying; pressure washers with trapping unloader only **Requires trapping unloader. Consult factory before ordering this option.**

HX-0287 California Compliant Fuel Tank

Replaces the EPA plastic tank with a CARB approved painted steel tank