Hot Water Mini Trailer - HMT-4004-0MGH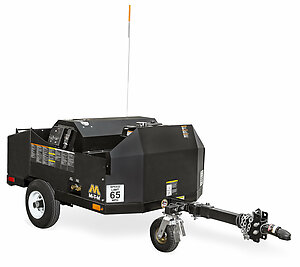 Click for larger image
Limited Warranties:
3 Year Honda Engine
7 Year General Pump
HMT-4004-0MGH
The compact design of this trailer offers ease of transport without sacrificing power cleaning capabilities. It's engineered with a belt-driven pressure washer and 12V Beckett burner.
Pump: Adjustable pressure unloader · Forged brass manifold · Thermal relief valve
Engine: Remote engine start and choke · 12V electric start – battery not included
Frame: Reinforced powder coated steel frame · Locking rear storage area – 2.875 cubic feet · Sealed LED trailer lights · 2-inch ball hitch · Caster brake (Use when unhitched) · (2) 4.80-8 8-inch bias ply tires
Components: ½-inch schedule 80 pipe-coil with 4-pancake heat exchanger · 12V Beckett burner · No. 1 or No. 2 fuel oil, diesel or kerosene fired burner (Not approved for bio-fuel) · Engine hour meter · 1,000-lb. axle
Miscellaneous: Temperature rise 140°F/60°C above ambient
Safety Features: Removable safety flag for transportation and guidance when backing up · Recommended maximum speed is 65 mph · DOT approved and National Association of Trailer Manufacturers (NATM) certified · 250°F high temperature safety limit switch
Unit Includes: Quick connect nozzles – 0°, 15°, 25° and 40° · 50-foot x 3/8-inch steel wire-braided hose · Adjustable pressure insulated dual lance with trigger gun
49 state engine. Not for sale in California.
Specifications
PSI

4000

GPM

3.7

Displacement/ Engine

389cc Honda GX390 OHV

Pump

General

Engine Fuel Tank Capacity

1.61 gallon

Burner Fuel Tank Capacity

10.0 gallon

Burner Fuel Cons.

2.45 gph

BTU Per Hour

343,000
Weights & Dimensions
Net Weight

1000.00 lbs.

Shipping Weight

1000.00 lbs.

Length

99.00 in.

Width

43.50 in.

Height

36.00 in.
Options
TX-0010 Adjustable Trailer Coupler Hitch

Replaces the standard 2-inch ball hitch with a 2-inch trailer hitch with pin-style fastener trailer coupler and hinged ball socket

TX-0020 High Pressure Hose Real

12-inch hose reel, 100-foot maximum hose length
Videos
Links / Blog Articles