Pressure Washer Trailers
Want to wash more while saving money? When washing the sides of large buildings, expansive parking lots and miles of sidewalk, Mi-T-M's trailers allows efficient transportation, so more projects—big or small— can be completed in a day's time. Don't worry about how to get your water pressure machine to multiple locations; clean off the dirt and grime by being mobile with Mi-T-M's customizable pressure washer trailers.
Types of Trailers
Offering single, dual-axle and new mini trailer units, we have the trailers you need to conveniently transport your pressure washer.
Our single-axle trailers offer three different models varying between types of brakes with one 200-gallon water tank. In addition to the single, Mi-T-M has dual-axle trailers that hold two 200-gallon water tanks and can provide you with more water for your water pressure projects. There are three different dual-axle trailer models to choose from and our experts can help you decide which is right for you.
Both single and dual-axle trailers feature a swivel jack with pad, a 2-inch ball hitch and rubber mounted sealed lights. The tanks are enclosed with a powder coated steel frame, so leaks are nonexistent. To reach the tanks, the trailers are built with aluminum treadplate steps.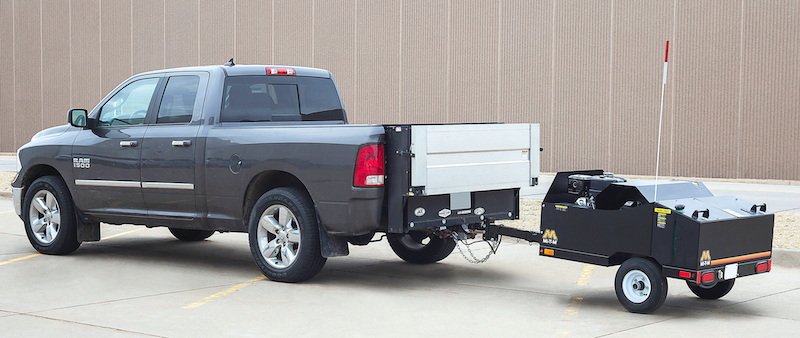 The new Mi-T-M hot water mini trailer offers a compact design and ease of transport without sacrificing powerful cleaning capabilities. This trailer package is engineered with a durable powder coated steel frame, a rear locking storage area and an industrial 4000 PSI belt-driven pressure washer. This trailer does not have a water tank, so you will need access to a water source for your commercial cleaning contract jobs.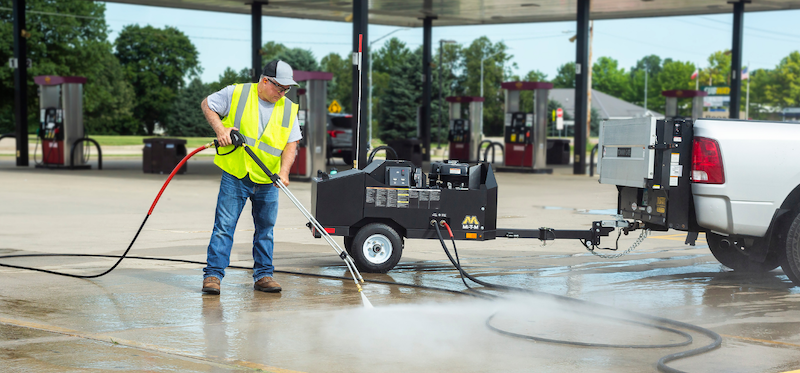 After you decide which model you like, continue to customize your trailer by picking from an assortment of hose reels, replacement hose reel parts, backflow preventers, trailer tank bypass options and trailer hitches. You can choose what accessories you need for your trailer at Mi-T-M because we specialize in customizing trailers that work for you.
Mi-T-M's trailers are equipped with everything you'll need to complete your washing projects.
By utilizing the trailer, you can:
provide more space for your equipment
provide dependable transportation that will not break down
be mobile by easily attaching to different vehicles
The Right Temperature for Your Project
Customize your single or dual-axle trailer with a Mi-T-M hot or cold water pressure washer.
Mi-T-M cold water pressure washers are:
used to wash away dirt and debris
available in gas, diesel and electric models
excellent for cleaning a wide variety of surfaces, including siding, driveways, dog kennels, cars, boats, RV'S, and decks.
Mi-T-M hot water pressure washers are:
effective against grease, grime and other contaminants
available in gas, diesel, LP, natural gas and electric
capable of cutting cleaning times by 50%, which is especially useful when cleaning more than a couple hours each week.
Communicate with our experts to find which trailer is most suitable for you. No matter the location or how large the project is, Mi-T-M trailers are durable and are the perfect solution for on-site cleaning.