Water Transport Trailer - MWT-0510-2MHD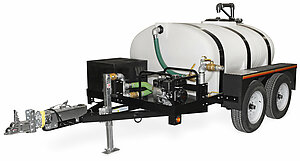 Click for larger image
Limited Warranties:
1 Year Trailer
2 Year Pump
3 Year Honda Engine
3 Year Water Tank
MWT-0510-2MHD
This water trailer is equipped with a 510-gallon water tank, rear spray, hose hook-ups and more. It is an ideal choice for dust control, parking lot cleaning and water transportation.
Tank: 510-gallon elliptical low profile 3/8-inch thick polyethylene · 16-inch manhole with 4-inch vent and a sump pump
Central Manifold: Easy-to-operate butterfly brass valves
Plumbing: 1 1/2-inch fire hose hook-up with 50-foot x 1 1/2-inch hose and fog nozzle · Break-away hydrant fill with 25-foot x 2 1/2-inch hose · Dual rear spray heads · Garden hose connector · Manifold discharge system · Water hammer prevention valve
Trailer: DOT approved · 12-inch under-clearance at axle · 7,000-lb. side-mount crank jack · Dual leaf spring suspension · Rubber mounted sealed lights · Wire storage basket · Two safety chains with snap hooks · (4) ST225-75 15-inch tires
Semi-Trash Pump: 2-inch suction and discharge that handles solids up to 3/4-inch diameter · Heavy-duty powder coated wraparound frame · Silicon carbide mechanical seals · Precision molded cast iron impeller and volute for reduced vibration and wear
Specifications
Displacement/ Engine

118cc Honda GX120 OHV

Pump

2 in. Semi-Trash

Hitch

2 in. Ball

Axle

(2) 3,500 lb. Tandem with Hydraulic Surge Brakes

Bed Frame

5 ft. x 8 ft.

Trailer Weight (Loaded)

5,900 lb.
Weights & Dimensions
Net Weight

1580.00 lbs.

Shipping Weight

1580.00 lbs.

Length

164.40 in.

Width

81.60 in.

Height

69.60 in.
Options
TX-0008 Hard Suction Option

Allows you to draw water from an auxiliary source (pond, water pit, etc.). The fire hose is designed to be used with pressurized water and lays flat for easy storage.

TX-0010 Adjustable Trailer Coupler Hitch

Replaces the standard 2-inch ball hitch with a 2-inch trailer hitch with pin-style fastener trailer coupler and hinged ball socket

TX-0019 Lunette Ring Hitch

Replaces the standard 2-inch ball hitch with an 3-inch integrated lunette ring for use with pintle hitches
Videos
Links / Blog Articles