Walk into McHenry Pressure Cleaning Systems and you'll be greeted by Chopper, a stubborn but loveable Chesapeake Bay Retriever. "You don't negotiate with a Chessie," says President Dennis Black.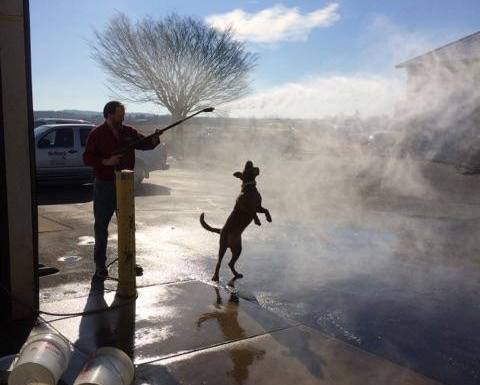 The cute pooch is a new addition to a company with a long history. Black has been working with pressure washers for more than 30 years. At age 18, he began working for a large Maryland auto parts store owned by the McHenry family.
Soon, he and John McHenry realized that pressure washers were a good business on their own. They started a separate pressure cleaning Maryland business and sales began to climb.

In the early days, they had a large agricultural base including dairy farmers, as well as small garages and trucking firms. As technology began to change, so too did their customer base.
"The Internet had a tremendous effect on our business," said Black. "It increased the awareness of what pressure washers can do; it gave us another tool to get out to our customers."
Another reason for McHenry's growth is their partnership with Mi-T-M.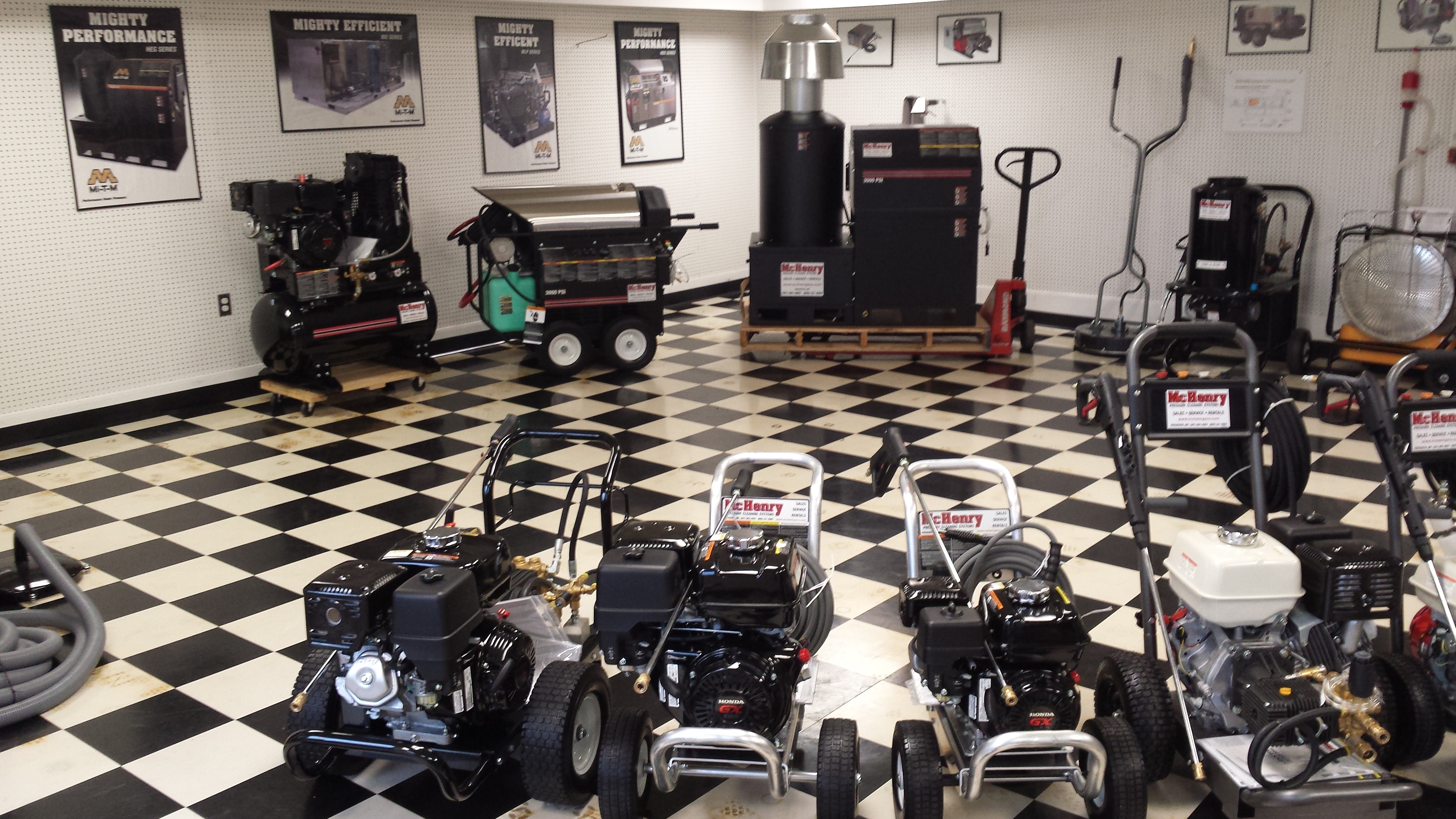 "Bar none, Mi-T-M is the best manufacturer we work with. They always support us and you just don't find that in our industry," he said.
Black said he appreciates Mi-T-M's high-quality equipment, warranties, programs, and the fact they offer him private label machinery. But he especially cites the relationships he's formed with Mi-T-M staff members.
"Karl Loeffelholz is always helping us, always advocating for us," he explained. "Karen Anderson has always been very good to me. We have a bond of friendship."
Like Mi-T-M, integrity has always been the cornerstone of Black's business.
"At the end of the day, our service and our knowledge is what we have," he said. "We enjoy helping our loyal customers."
"Dennis and his team at MPCS is one of our greatest partners in this business. They have continued to support us, not only by purchasing equipment but always giving us feedback on how to improve our products, programs and to become a better manufacturer." – Karl Loeffelholz, Dealer Division Manager Mi-T-M Corporation
McHenry Pressure Cleaning Systems in Frederick, MD serves Washington D.C. and Baltimore area's industrial pressure washer and pressure cleaning needs.

Mi-T-M's March 2017 Dealer Spotlight: Georgia Chemical Equipment Company
Over the last 40 years, Georgia Chemical Equipment Company has evolved from a small steam cleaner and soap distributor to an exceptional pressure washing and industrial cleaning company with a clear mission: To develop mutually profitable relationships by providing the best possible service and products to their customers.
The Atlanta-based company works with Mi-T-M to provide their customers with quality pressure washing and water treatment equipment. At Mi-T-M, we're proud to partner with this outstanding Atlanta pressure washing and industrial cleaning company.
"Mi-T-M makes such great high quality and dependable machines right here in the USA," states Michael Brown, President of Georgia Chemical. "We don't have any warranty issues with Mi-T-M units and very few major repairs are ever needed. Plus they make complementary products that our customers use."
Today, Georgia Chemical sells, rents and repairs a wide variety of products including:
Hot and cold pressure washers
High pressure pumps and pumping systems
Floor care products
Water reclaim and filtration units
Industrial degreasers
Car and truck wash chemicals
Laundry and specialty detergents
Another part of their business includes the rental of hot water wash trailers. Georgia Chemical also builds custom trailers for their customers' needs. Many of these trailers are equipped with a Mi-T-M HVS Series hot water pressure washer.
"These units get a real workout because they are used by so many different contractors," states Brown. "Because of their high quality, the Mi-T-M machines have a high resale value. We usually have a waiting list of people who want to buy our rigs."
Georgia Chemical Equipment Company serves metro Georgia including Gwinnett County, Atlanta, Norcross, Duluth and Lilburn. The company also provides consulting, system design, and engineering services. In other words, they're Atlanta's one-stop-shop for industrial cleaning solutions and like Mi-T-M, Georgia Chemical believes in the principles of great customer service and quality products.

Standard HEG Hot Water Pressure Washer Troubleshooting
What to do if the burner is not firing and how to check the MV terminal.
First things first, make sure the unit has a pilot flame. If it does then the next thing to check is if the ignition control box is seeing the flame correctly by checking the MV terminal on the hot water pressure washer. Every HEG unit has an ignition control box that is powered with a 24V AC the minute the pressure washer motor starts.
The ignition control box is mounted to the left of the water pump under a black metal cover. When a unit is started, the ignition control will create a spark and open the pilot solenoid on the gas valve to light the pilot flame. Once the ignition control box senses the pilot flame, it will send 24 volts of AC power out through the MV terminal. To check it properly, use a voltmeter by putting the black lead on the TR ground terminal and the red lead on the TH terminal.
So why is the MV terminal so important to check?
Because without the 24 volts of AC power that is sent out through the MV terminal no other part of the burner circuit will work. It's the AC power that will power the main valve on the gas valve that's used to light the burner ring. Regardless of what options are included, all HEG units have the same power circuit process. So, if there isn't any power that is being sent out through the MV terminal, the sensing circuit on the machine is not satisfied. Make sure to check this terminal in the first steps of troubleshooting to narrow the variables down to the pilot flame, sensing rod and wire, or the ignition control box itself. On isolated occasions, the grounding of the unit can affect the sensing circuits, so keep this in mind while working on these units. But typically, if your ignition control box is sending out 24 volts of AC power through the MV terminal, then it's simply a pressure switch or thermostat replacement that's needed.