From mold, mildew and mud…to grease, grass stains and grime, there are simply some jobs too big for your garden hose to tackle.
A pressure washer will make any outdoor cleanup task quicker and more efficient – packing at least 75 times more power than a regular garden hose. That's a lot of cleaning power!
Whether you are cleaning siding, sidewalks or removing suspicious stains, a pressure washer will make fast work of most any job.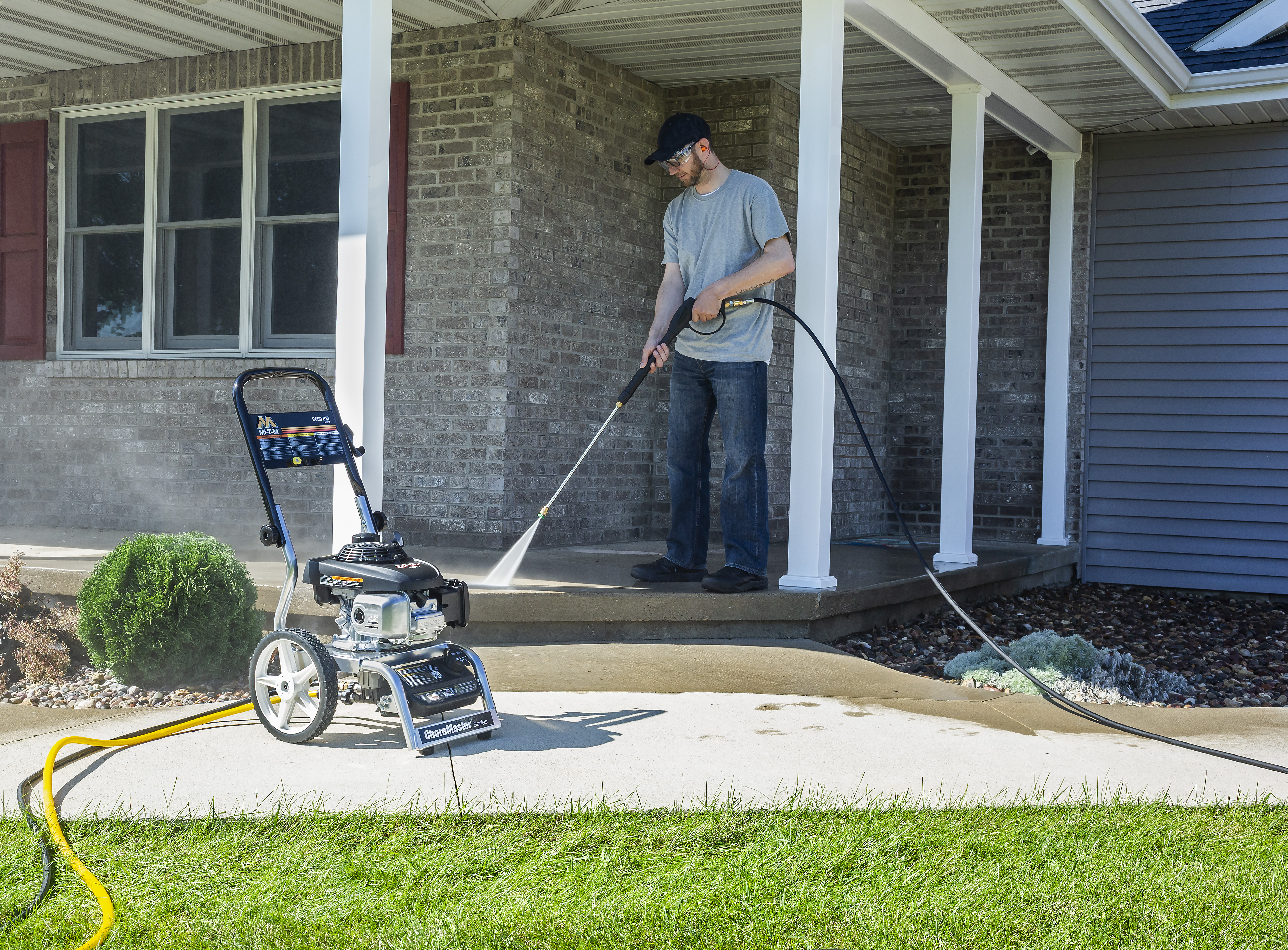 If you're in the market for a new pressure washer, be sure you consult and buy from a reputable dealer or manufacturer.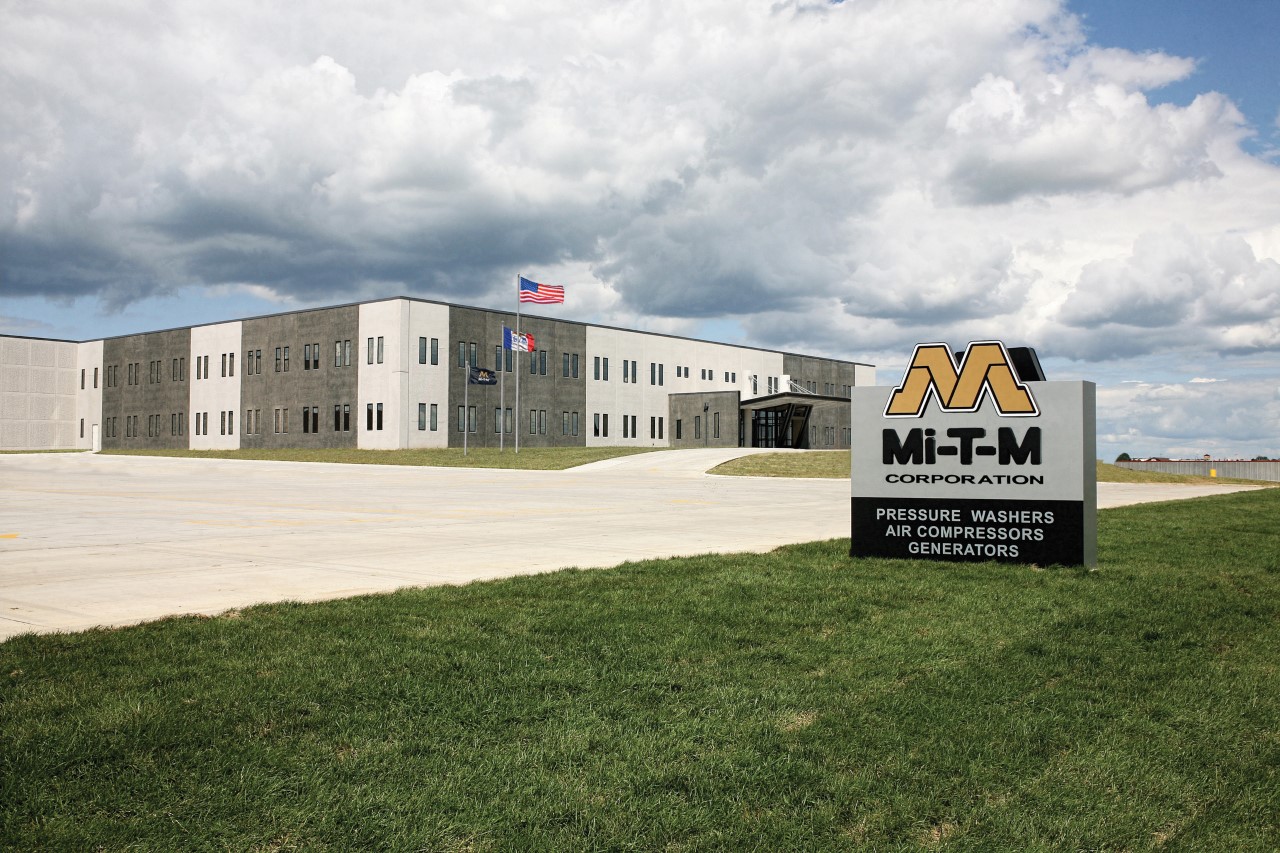 Mi-T-M has been in business since 1971 and we stand behind all of our high-quality equipment. We have a large network of distributors and service centers for all of your equipment needs.
Do your homework before investing in a pressure washer and be ready to answer these questions.
1. What do I want to clean and how often will I use a pressure washer?
The sky's the limit when it comes to what a pressure washer can clean. You name it – roofs, cars, decks, pools, grills, sporting equipment and mailboxes can be cleaned. In a mere matter of minutes, your dirty items will look brand new.
It is important to consider how often you will use a pressure washer and how many of your items need regular cleaning. Knowing your needs will help you with the next question.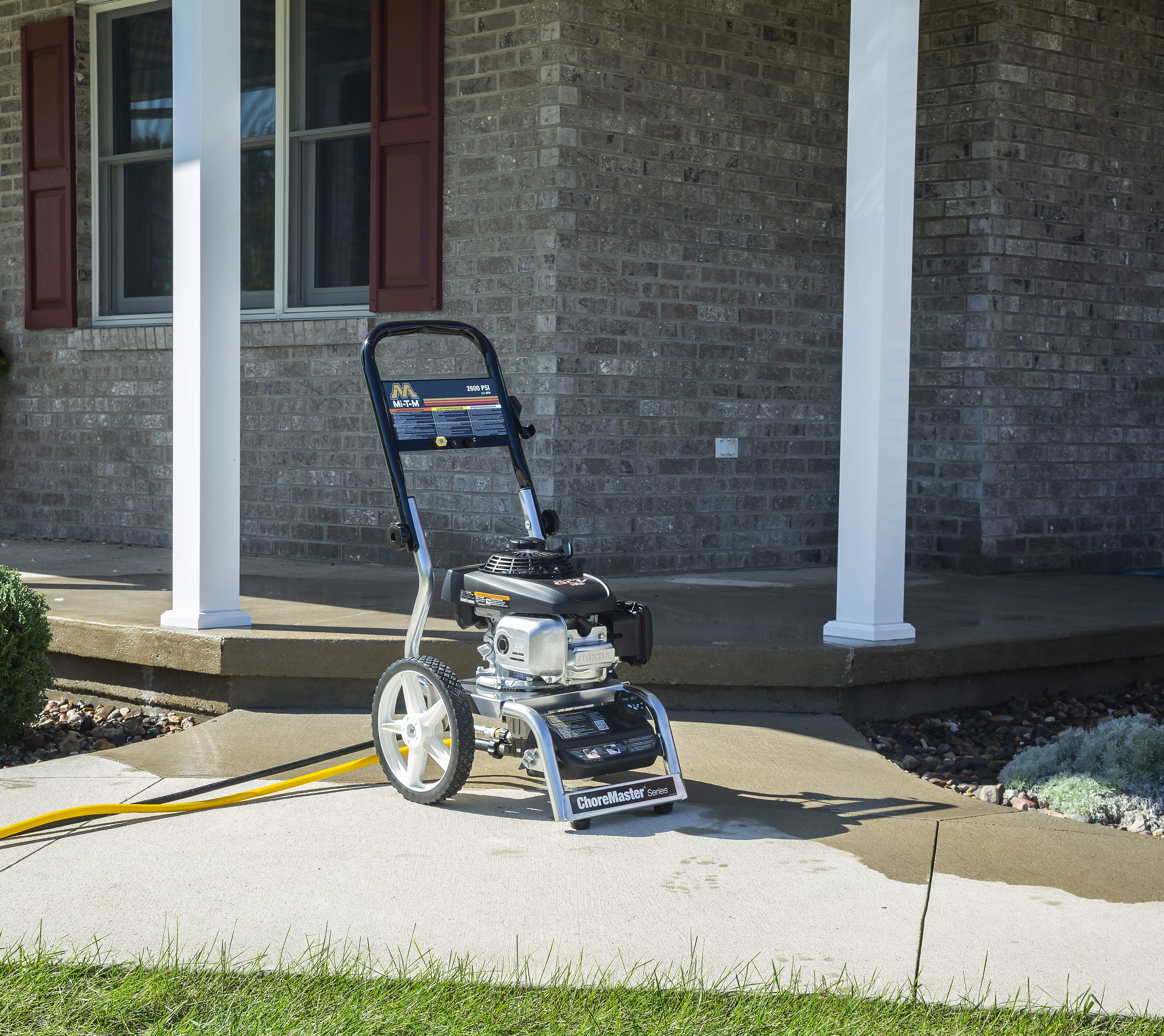 2. What size pressure washer is best for my needs?
No matter what household job you're tackling, Mi-T-M has the right size pressure washer to help.
As you consider your pressure washer options, note the PSI (pound per square inch) and GPM (gallons per minute) vary for each model. PSI is pressure and GPM is flow. In other words, PSI is the action that blasts off the grime on surfaces you're cleaning and GPM is the flow to move and rinse the grime off of those surfaces. By multiplying PSI and GPM you'll know the cleaning units of the pressure washer. (PSI x GPM = Total Cleaning Units) Calculating the cleaning units a good way to compare different pressure washers. The higher the cleaning units, the quicker you clean.
One of our smaller pressure washers is in the ChoreMaster Series and begins at 1400 PSI. This cold water, electric pressure washer is lightweight at just 45 pounds, making it easy to lift and maneuver. This size is perfect for seasonal cleanings around the house and ideal for washing cars, small decks, patios and outdoor furniture.
As you browse Mi-T-M's pressure washer categories, you'll find machines that pack even more power. Mi-T-M's gasoline ChoreMaster Series models range from 2600 to 3000 PSI and are designed to handle more frequent cleaning. These pressure washers can be used to easily tackle medium-sized jobs like larger decks and siding.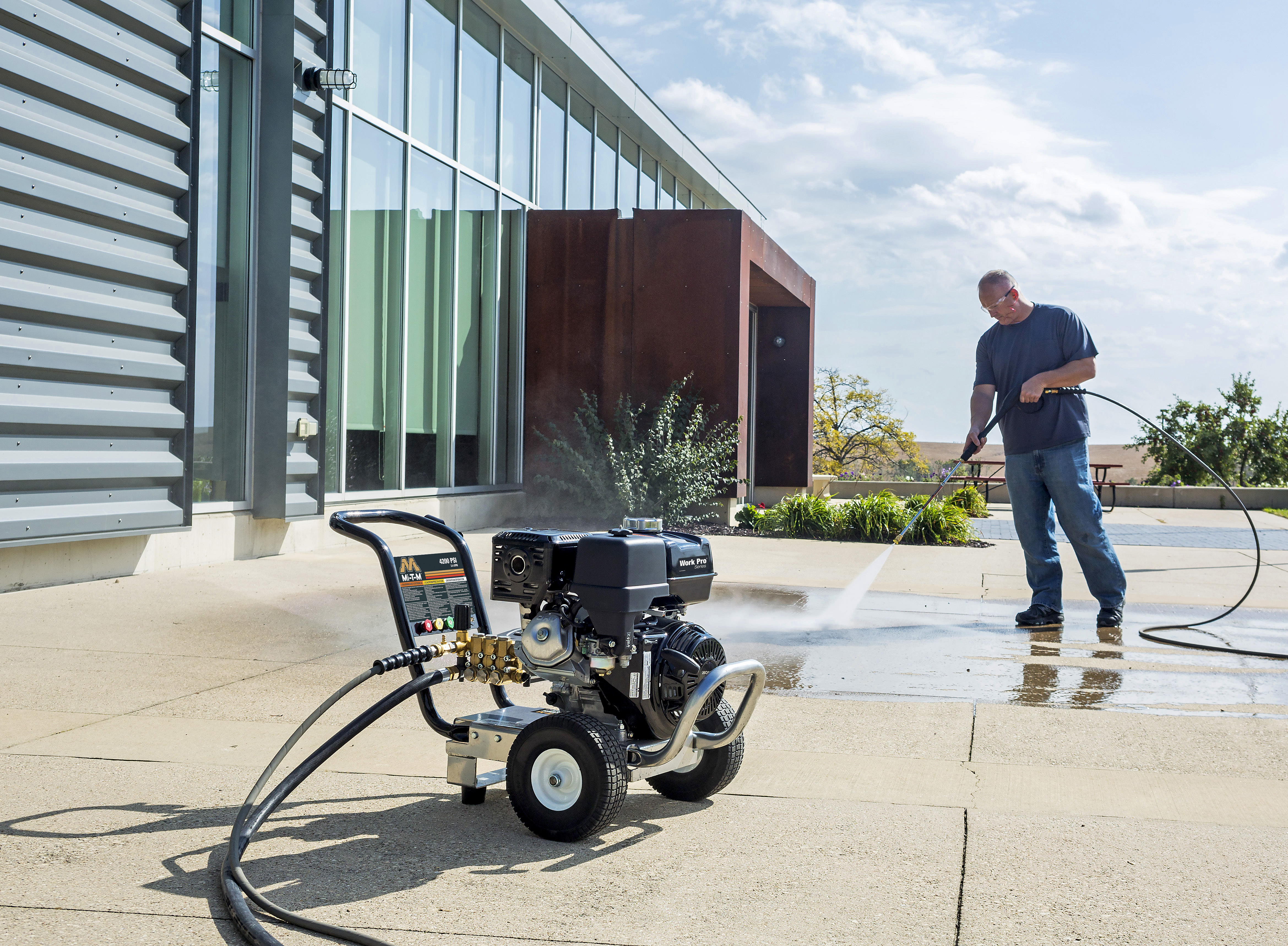 At the higher end of the residential line, Mi-T-M's Work Pro Series pressure washers really deliver some serious cleaning power. They begin at 3000 PSI and go up to 4200 PSI and weigh between 75 and 142 pounds. At this strength and size, the Work Pro Series pressure washers can be used weekly and for much longer periods of time – they are cleaning powerhouses!
3. Do I need a gasoline or an electric model?
Electric pressure washers typically provide about 1000-2000 PSI and are ideal for small jobs around the house where an outlet is readily available. They are safer, quieter and more compact than gas models.
Gas powered pressure washers, on the other hand, usually offer 2000-6000 PSI and can blast away the even toughest grime on boats, fences, siding, sidewalks and other large objects.
Review what you want to clean and how often you wish to clean to determine if a gas or electric model is best for you and your needs.
4. Do I need a cold water or hot water pressure washer?
Temperature matters when it comes to cleaning capabilities. Both hot and cold pressure washers are effective, but Mi-T-M recommends you review your specific cleaning needs before selecting one.
If your goal is simply to remove dirt, mud and debris from surfaces, a cold water power washer is just the ticket. Washing your vehicle, lawn mower or gardening equipment will be a breeze. Plus, you can add cleaning accessories such as surface cleaners and rotating nozzles to increase your cleaning power.
If you need to power through grease and oil, a hot water pressure washer is the way to go. Hot water washers save time and are the best option for cleaning shop floors, farm equipment and jobsite vehicles.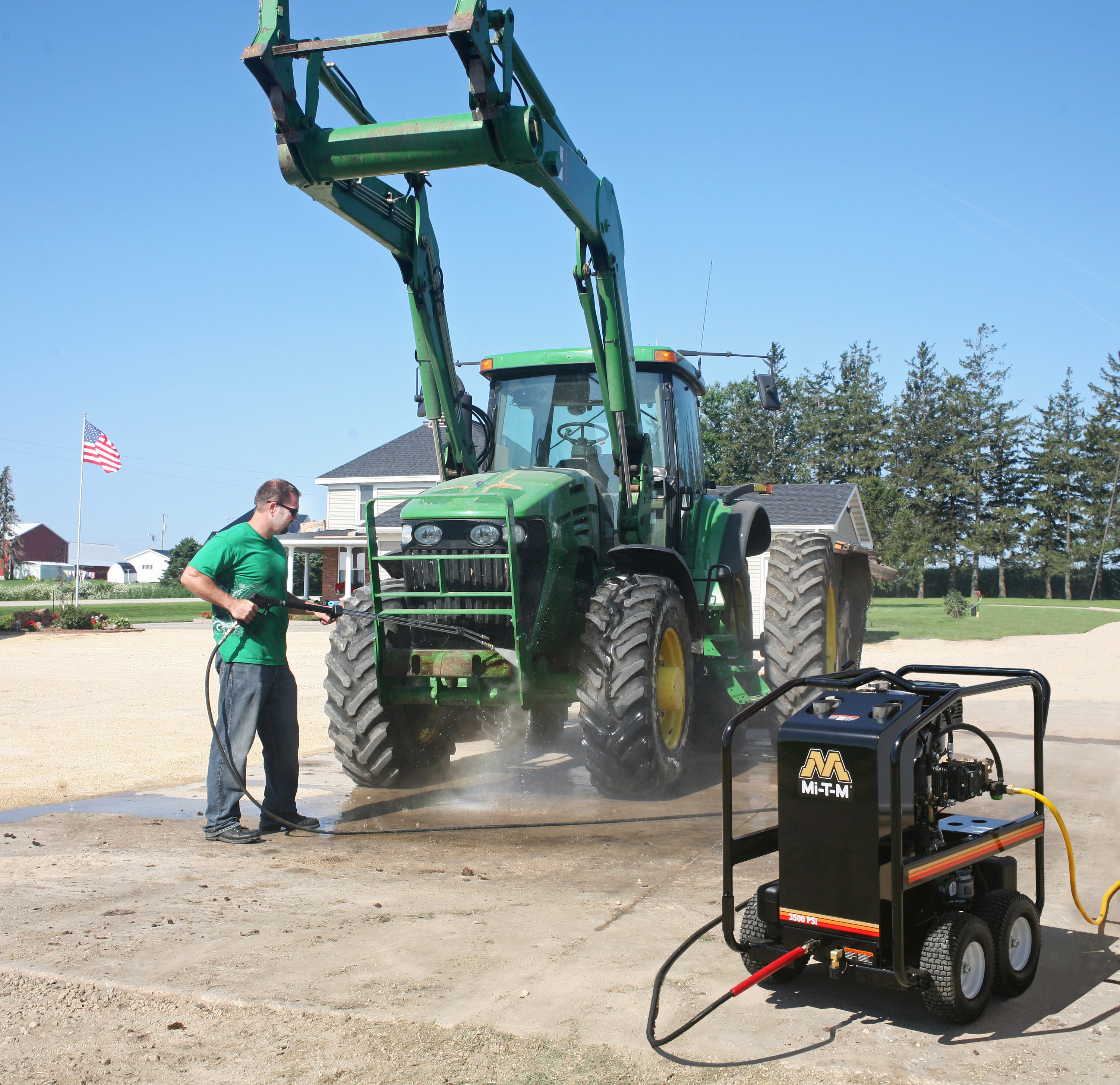 Keeping these things in mind will help you select the best pressure washer for all of your cleaning needs.
Find a Mi-T-M Dealer near you!