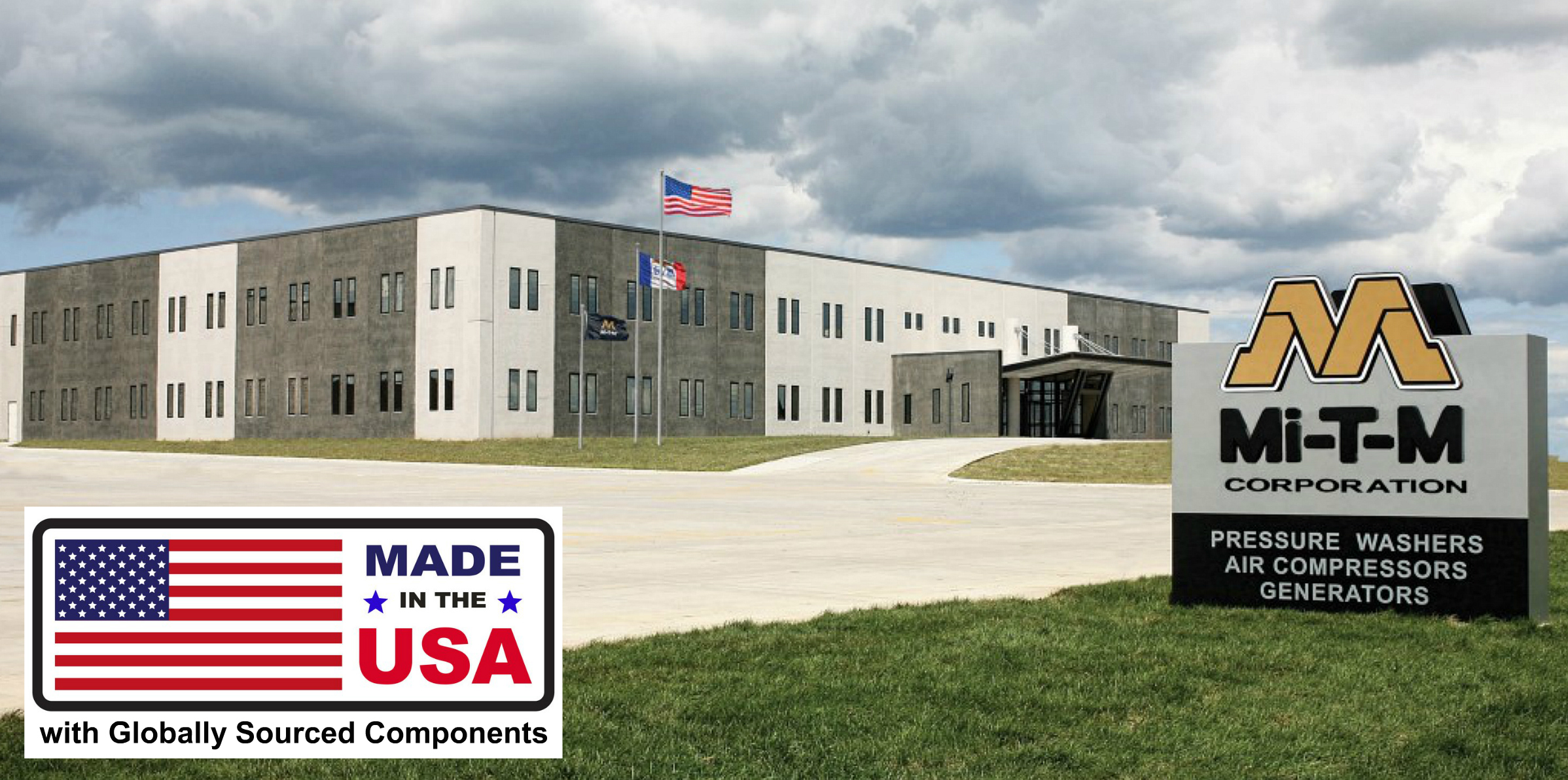 Made In The USA
The ability to work and provide value to a company, community and neighborhood has given Americans a certain purpose for generations. Mi-T-M Corporation's employees are proud to be part of a team that builds American-made products.
The Mi-T-M brand is well known around the world for high quality products and unequaled workmanship. The industrial grade equipment is used across many industries by paint and construction contractors, farmers, steel workers, homeowners and even the United States government.
Mi-T-M was founded in 1971 by A.J. Spiegel, a professional paint contractor who saw the need for a portable pressure washer. Mi-T-M's flagship product is a 1000-PSI cold water pressure washer called the "Mighty 1000." The name was soon abbreviated to "Mi-T" and paired with the Roman numeral "M" for 1000, A.J. Spiegel had a unique name for his new company…Mi-T-M.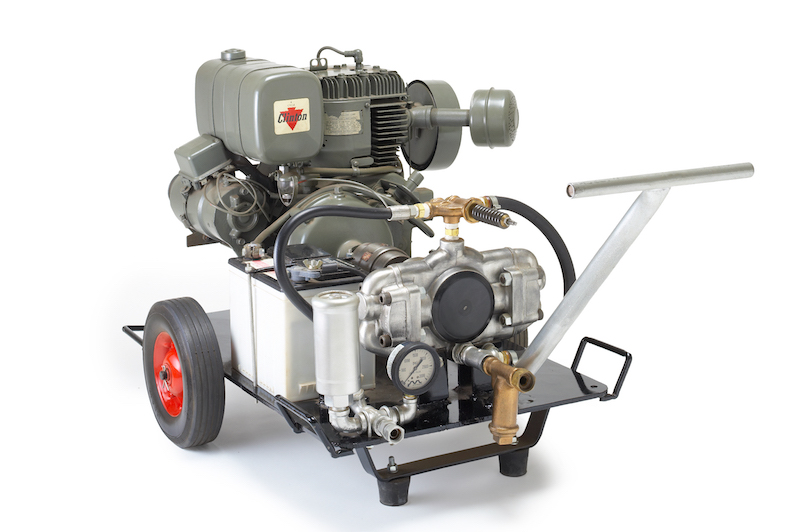 Over 400 loyal and hard-working employees uphold the Mi-T-M Promise "to deliver unmatched performance from the quality of our products to the dedication of each employee who does what's right for our customer — every time."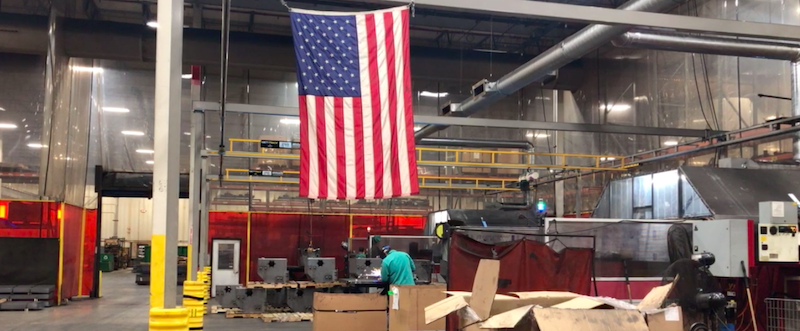 What started as a dream, is now a world-renowned American success story.  Today, Mi-T-M manufactures thousands of products in a facility that includes a fabrication division to shape and paint the framework from raw steel. These parts are delivered to 26 production lines where components are assembled. The 1-million square foot facility also features two engineering test rooms, one certification test room and one service test room to ensure the quality of every product before it is shipped out the door.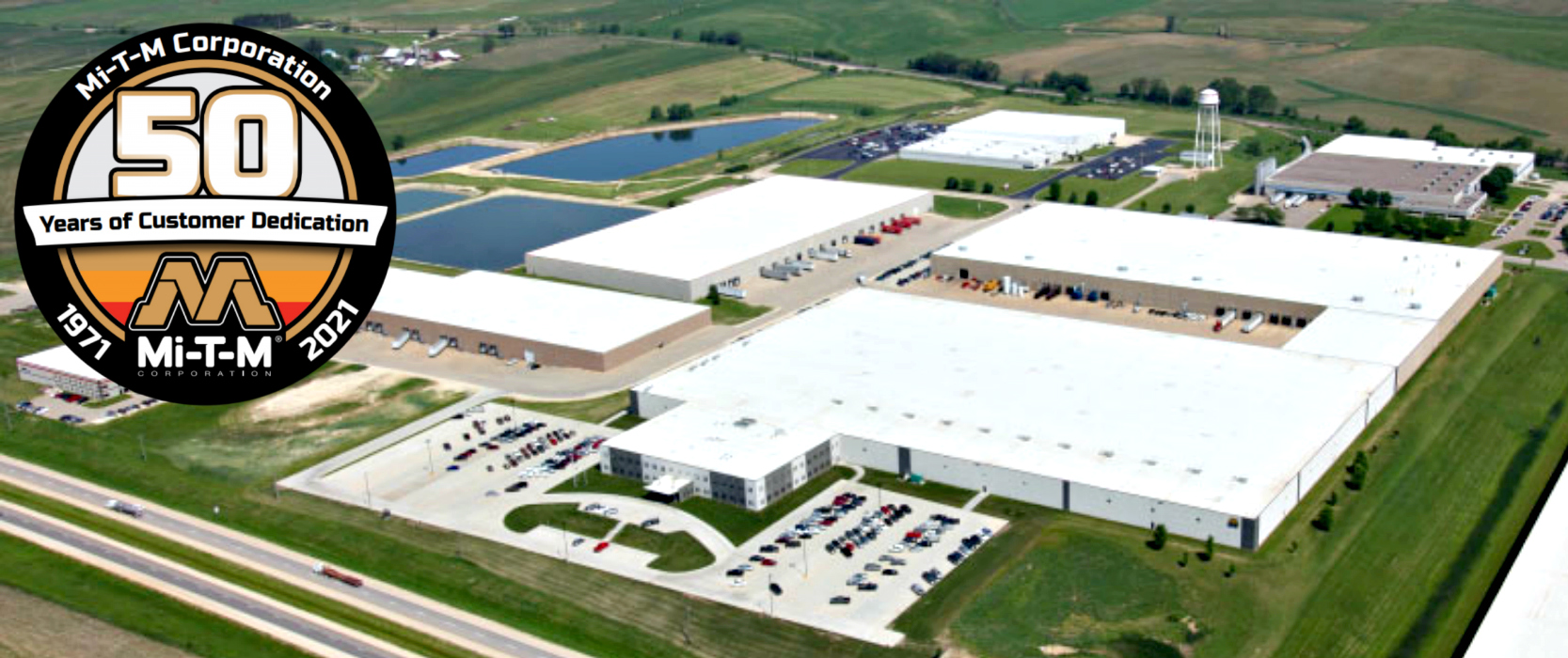 In 2021, just in time for his company's 50th Anniversary, A.J. Spiegel announced the sale of his company to his employees. Mi-T-M became an ESOP (Employee Stock Ownership Plan) to not only continue as a privately owned company, but to also ensure it remained part of the local community. Mi-T-M employee's ownership in the company will provide purpose for generations to come.

After much consideration, you finally decided to invest in a pressure washer. Now comes the task of deciding with model is best for you.
Mi-T-M prides itself in offering a wide range of pressure washers to fit every cleaning need. We cater to many industries to provide the perfect cleaning solution based on many factors. Just one of those factors is deciding between an electric driven pressure washer and a gas driven pressure washer. One of the first questions to ask yourself before making this choice is where your power will come from. Do you have access to electricity wherever you need to clean? If your cleaning needs take you to a location where finding available electricity is going to be a problem, then a gas driven pressure washer is the best choice.
Often customers choose an electric powered pressure washer if they have a need to use it indoors, because the electric motors emit no fuel fumes. For food and beverage companies, such as breweries and commercial kitchens who must keep work surfaces and floors clean and sanitized, an electric powered pressure washer will be the best option.
Mi-T-M offers a large selection of pressure washers in both electric and gas driven models. Many claim that a gas-powered pressure washer is more powerful than electric. However, Mi-T-M manufactures industrial electric pressure washers with up to 5000-PSI of cleaning power. With that much power, an electric pressure washer can tackle most any cleaning job.
Let's look at some of the key differences between an electric and gas pressure washer that may help with your decision.
Electric Powered
An electric powered pressure washer is affordable and effective. Mi-T-M's residential line of electric washers typically have a lower upfront cost and require less maintenance than their gas counterparts. They are much easier to start and, as you might guess, are quieter than gas models. Because they are light-weight and user-friendly, Mi-T-M electric pressure washers are very popular in the residential market.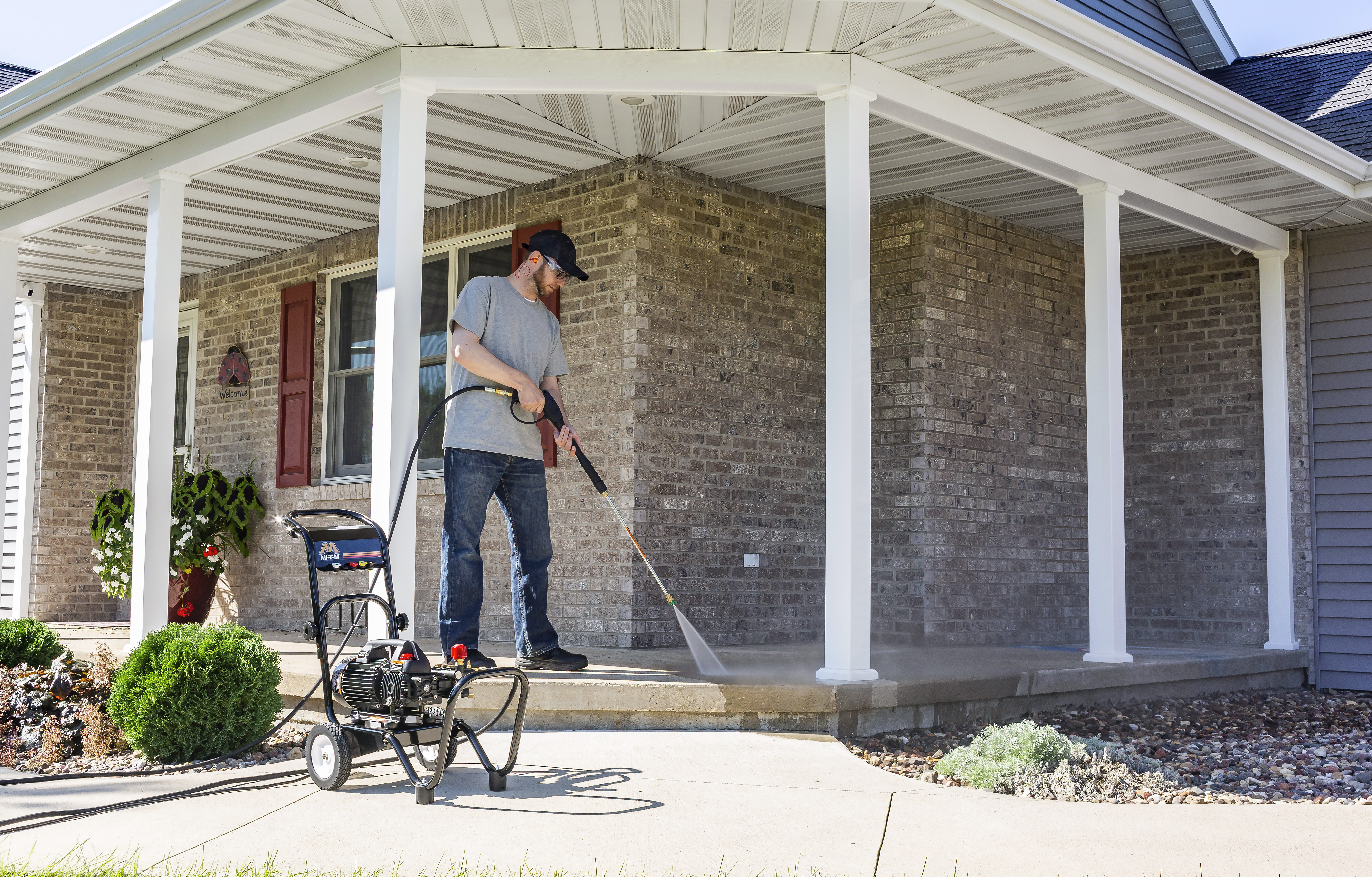 Mi-T-M manufactures both cold and hot water electric pressure washers that are used in commercial and industrial industries. These models are built to withstand even the toughest jobs on construction sites and in commercial and industrial facilities.  The advantages of purchasing an electric pressure washer are great, however, keep in mind, an electric power source must be accessible for you to use them.
Gas Powered
Gas powered pressure washers are known for their durability and that is why you find them most often in the commercial and industrial market places. However, Mi-T-M does manufacture a line of gas powered pressure washers for residential use. Available from 1400 to 3000-PSI, gas pressure washers are great for those who want more portability than an electric washer can offer.

Mi-T-M manufactures both cold and hot water gas powered pressure washers for commercial and industrial use. They are designed to provide the power, reliability and versatility businesses need. Often found in the agricultural, trucking and construction industries, they are used for property and equipment maintenance and cleaning at commercial and industrial facilities.

Because a gas pressure washer is powered by an internal combustion engine, your maintenance costs will be higher than with an electric pressure washer. Keeping an eye on fuel and oil levels will need to become a part of your regular maintenance routine. Winterizing a gas powered pressure washer requires more effort than electric models, but with proper maintenance and upkeep, your investment will be worth it.
As you can see when it comes to choosing between an electric or gas pressure washer, you'll need to ask yourself how and where it will be used, what your budget is and how much time you can devote to maintaining your investment. Either way, once you start using it, you'll wonder how you ever got along without one.
The Mi-T-M Sales Support Team is always happy to answer your questions. Contact us at 800-553-9053 or contact a dealer near you to find the best solution for your needs.
When you invest in equipment, whether it is a pressure washer, generator, air compressor or any other type of equipment, keeping it in top running condition requires proper maintenance. End of season maintenance is one the most important tasks you can do to keep your equipment in its best working condition for many years.
Most seasonal equipment needs to be winterized before cold weather arrives. If you store your equipment where the temperatures will fall below 32-degrees Fahrenheit, protect it by following the proper winterizing procedures that are included in your manual. Product manuals for all Mi-T-M equipment can be found on our website and make sure to check out this pressure washer winterizing video for extra guidance.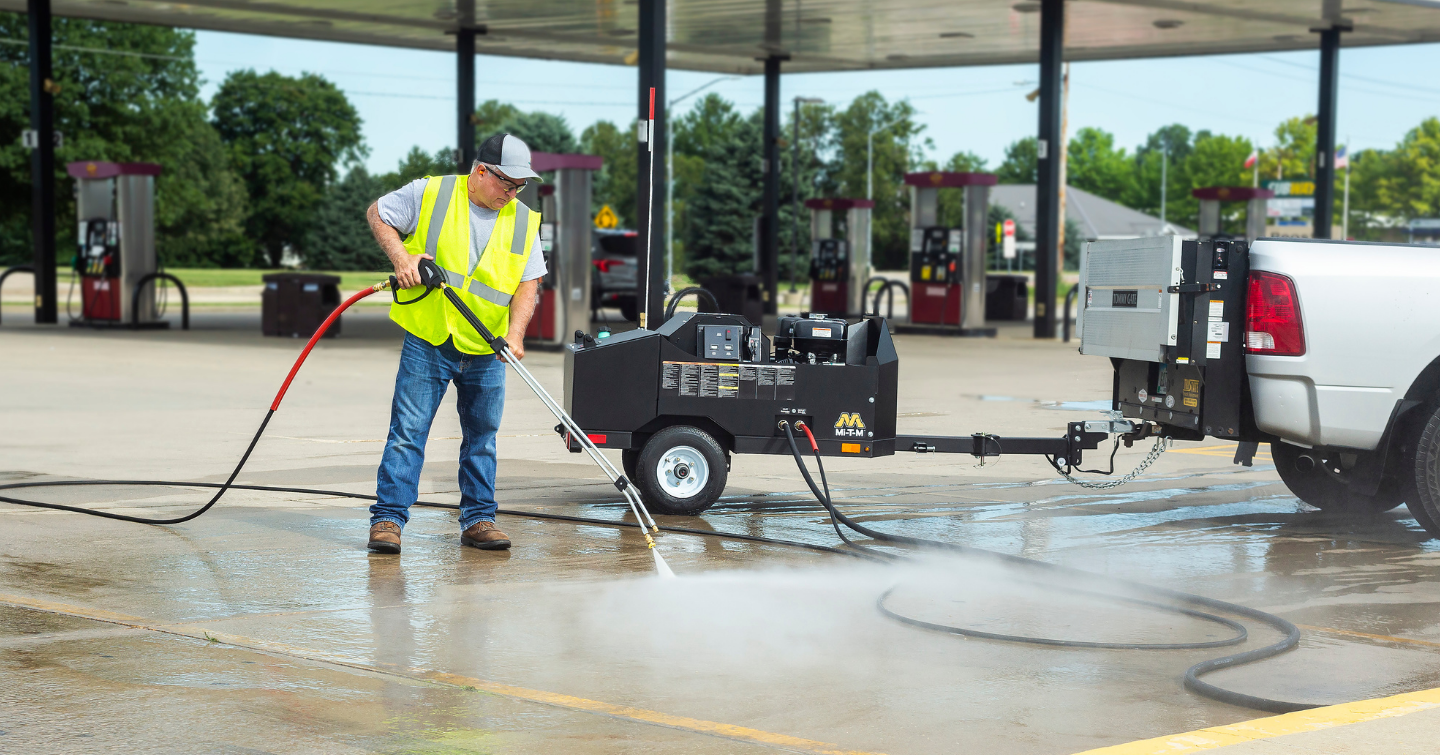 Here are a few general winterizing tips:
For equipment that runs water through a pump, such as a pressure washer, make sure water is removed completely from the pump and all accessories used with the unit. Refer to your manual for the proper winterizing process, which will include running a pump conditioner or winterizer through the pump. This includes all electric driven and engine powered pressure washers.
Disconnect and dry all attachments.
Add a quality fuel stabilizer to fresh fuel and run the engine for a few minutes to circulate it.
Check and tighten spark plugs or replace if necessary.
For air compressors, make sure you open all drains to get rid of condensation. Inspect and clean air filters, replace if necessary. Check guards and covers to make sure they are properly in place.
Giving your equipment a good cleaning before storing it will help keep the unit free from rust and corrosion. Using equipment covers adds protection.
As you can see, the most important tip for preparing your equipment for use in the spring, is making sure it is properly maintained and winterized. When spring rolls around, you will be confident your equipment will run properly and be ready when you are.
Here is a quick spring checklist, but again, check your manuals for proper startup so you get the most out of your equipment.
Change the engine and pump oil.
Flush out antifreeze or winterizer from pumps.
Clean or replace the air filter, if you didn't do so before storing.
Drain old fuel and refill with fresh fuel.
Inspect all hoses and attachments for leaks and cracks that may have occurred over the winter.
Start up the equipment to make sure it is running correctly before you need to use it.
If you suspect something isn't right, contact your service center to help diagnose the problem.
Purchasing your equipment is an investment, it takes very little time and effort to protect it and ensure you will enjoy using it for many years.