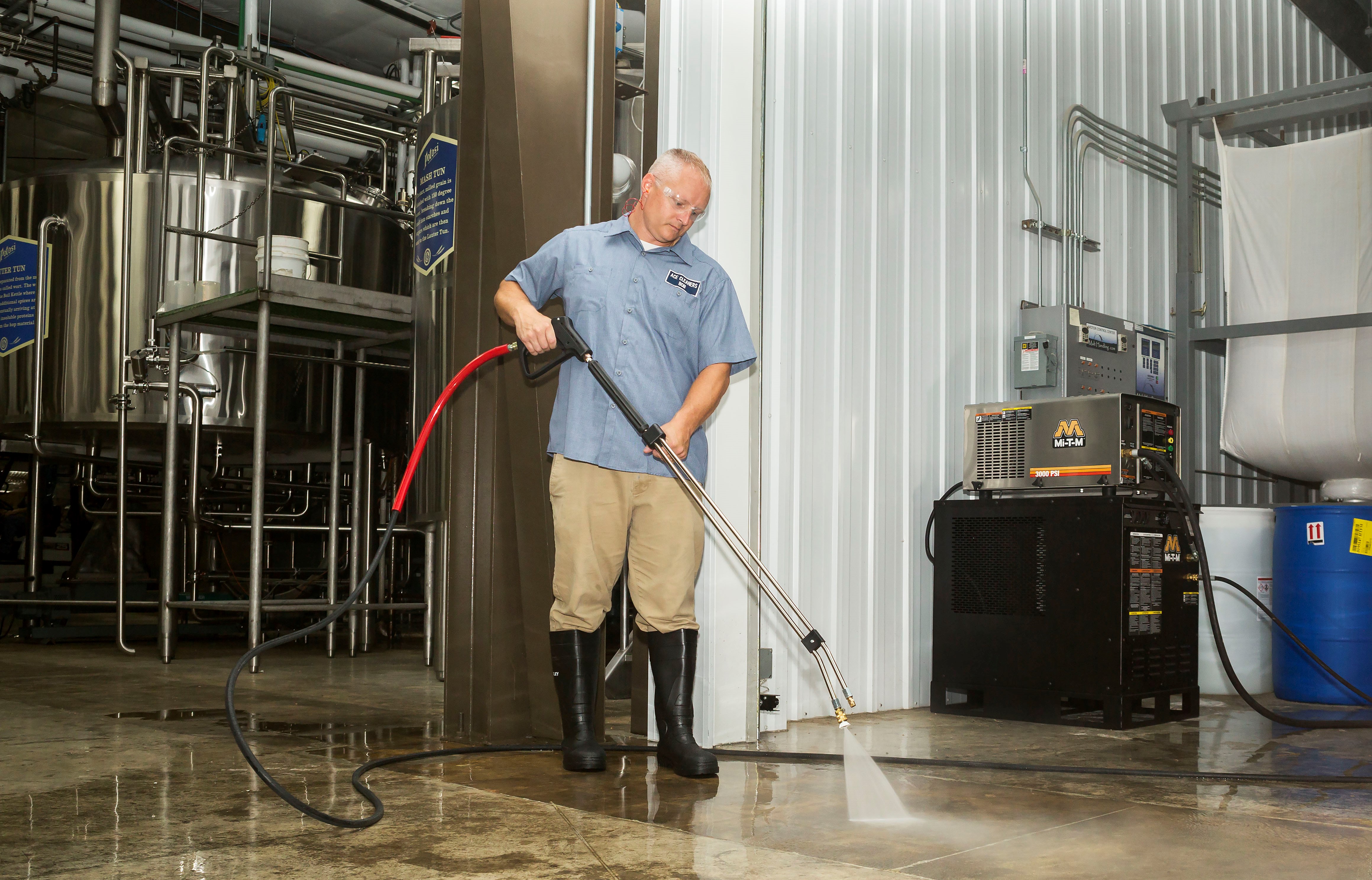 Put your Customers at Ease
Your customers are busy sanitizing, cleaning, and washing all around their homes, so make sure they feel confident in your business's cleaning efforts with sanitation equipment from Mi-T-M.
Sanitizing Inside and Outside
Use equipment that is safe for indoor use. Mi-T-M's electric hot water pressure washers can reach 120 degrees up to 200 degrees Fahrenheit.
The HHS Series electric pressure washers are portable and easy to move around large stores and warehouses, shipping facilities and other industrial and commercial sites where you need to clean. And don't forget to clean your shopping carts and baskets—this series is perfect for indoor and outdoor use.
The HSE series of electric hot water pressure washers effortlessly handles your toughest cleaning jobs, like vehicle repair shops, construction and agriculture equipment and other industrial and commercial sites. Mi-T-M's HSE portable unit quickly cleans outdoor business areas, such as gas pumps and bank drive-up areas, as well as semi-tractor/trailers and other delivery vehicles.
Clean the outside areas of your establishments, like parking lots, entryways, restaurant drive-up and pick-up areas, outdoor seating, and playgrounds. Use equipment like a Mi-T-M hot water unit to pressure wash these outdoor areas.
Food and Beverage Industry Sanitation
For food and beverage processing companies, Mi-T-M HAE all-electric hot water pressure washer will clean and sanitize your facilities in order to meet regulatory requirements.
A patented heat exchange cartridge design provides consistent, on-demand hot water to clean surfaces, without the harmful emission of fuel and exhaust fumes.
Cleaning in Well-Ventilated Areas
Mi-T-M's HEG hot water units are designed to clean heavily soiled vehicles and industrial equipment.  Efficient and rugged, the HEG Series will last for years.
Our experts can explain the difference between these pressure washers, and help you determine which machine best fits your needs. Call or contact us today.