Plan. Backup Plan. Backup-Backup Plan.
The most valuable type of preparation is planning. Knowing exactly what to do in the event of an emergency can mean the difference between life, death, or severe injury. Knowing where to go and what to do in the event of a storm emergency caused by a tornado, hurricane, tsunami, flash-flooding, mud-slides, earthquakes, and anything in-between is vital. Should you keep a supply of survival gear where you and your family plan to meet? What is the secondary meeting location if you get separated? Who is responsible for specific tasks? These are all scenarios that should be discussed on a regular basis to avert serious tragedy. The summer storm season is predicted to be above or near normal this year, so start these discussions soon. Check out the following preparedness tips and make sure you're ready for whatever mother nature throws at you!

Portable Generators and Proper Wattage for Different Appliances
Your electricity just got knocked out by the storm. The TV, radio, sump-pump, and all other major appliances have stopped working. What are you going to do? Purchase a Mi-T-M portable generator and never worry about power again!
When it comes to electricity, nothing evokes more truth than the saying "you don't know what you have until its gone." We can't control the weather, but we can help you plan ahead and prepare for emergencies. Mi-T-M sells a large array of equipment that helps homeowners stay safe during storms and power outages. How? Our generators convert mechanical energy into electricity. For homes, our unique inverters are designed with inverter technology for reduced size, weight, noise, and fuel consumption.
Our generators come in many sizes—from 2,000 watts to 14,000 watts—and types, including portable generators for residential use and commercial models. These rugged machines provide safe, reliable, and quiet backup for your home electrical needs. Different appliances require different levels of wattage as this graphic shows.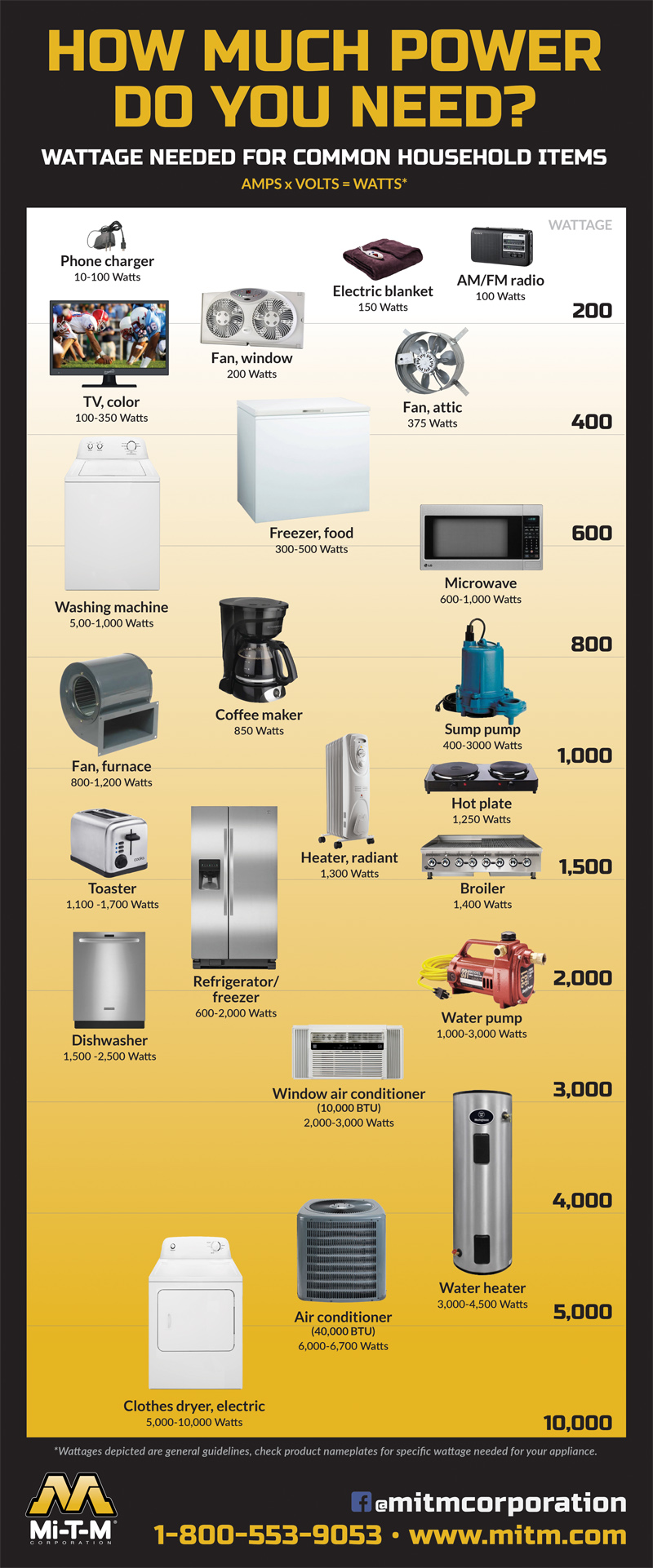 Is Bigger Better?
Think about your electrical needs during a power outage.
What are your 'electric essentials'?
Calculate the total wattage of all the appliances you wish to use—wattage can be located on each unit's nameplate or found through on the manufacturer's website—then multiply that number by three.
The total will tell you what size generator you need.
Our smallest units can easily power lights, your phone charger, and/or appliances like your radio. You'll need to put serious thought into what the conditions will be like when you lose power, which will help you determine your final purchase. Will the generator be a short-term solution for outages caused by lightning or a long-term solution for power-grid damage caused by earthquakes? Will it power your entire home or just a few devices? Larger generator units, for example, can keep your refrigerator and sump pump running while allowing you to watch TV to get crucial news. Regardless of size, Mi-T-M's portable generators and inverter units provide the power you need and the peace of mind you desire.
Are You Covered?
Regularly reviewing insurance coverage is often overlooked by renters and homeowners alike. Ensuring all of your possessions are adequately covered should something happen is something that should be a top priority for everyone. You're likely to acquire new items throughout the years so sitting down with your insurance agent to discuss whether your coverage plan needs to be adjusted is highly beneficial.
Pre-Storm Checks
Keeping your sidewalks, siding, decks, and roof clean will help identify any damaged surfaces that need repair before the next big storm hits. Small dents, cracks, scratches, and holes are hard to see under a layer of dirt and grime, so maintaining their cleanliness should be of high importance to any homeowner. A pinhole in your roof or siding can cause extensive water-damage over time, costing hundreds, or even thousands to properly repair. Using a residential Mi-T-M pressure washer will allow you to clean all these surfaces with ease. Whether the job requires hot-water washing, cold-water washing, high or low pressure, a powerful gas engine or a quiet electric, Mi-T-M has everything you're looking for.
Contact Mi-T-M or one of our dealers today. We'll discuss the best power solutions for all your needs. Click here for more information about how to prepare for power outages.