Some Like It Hot: Hot Water Pressure Washers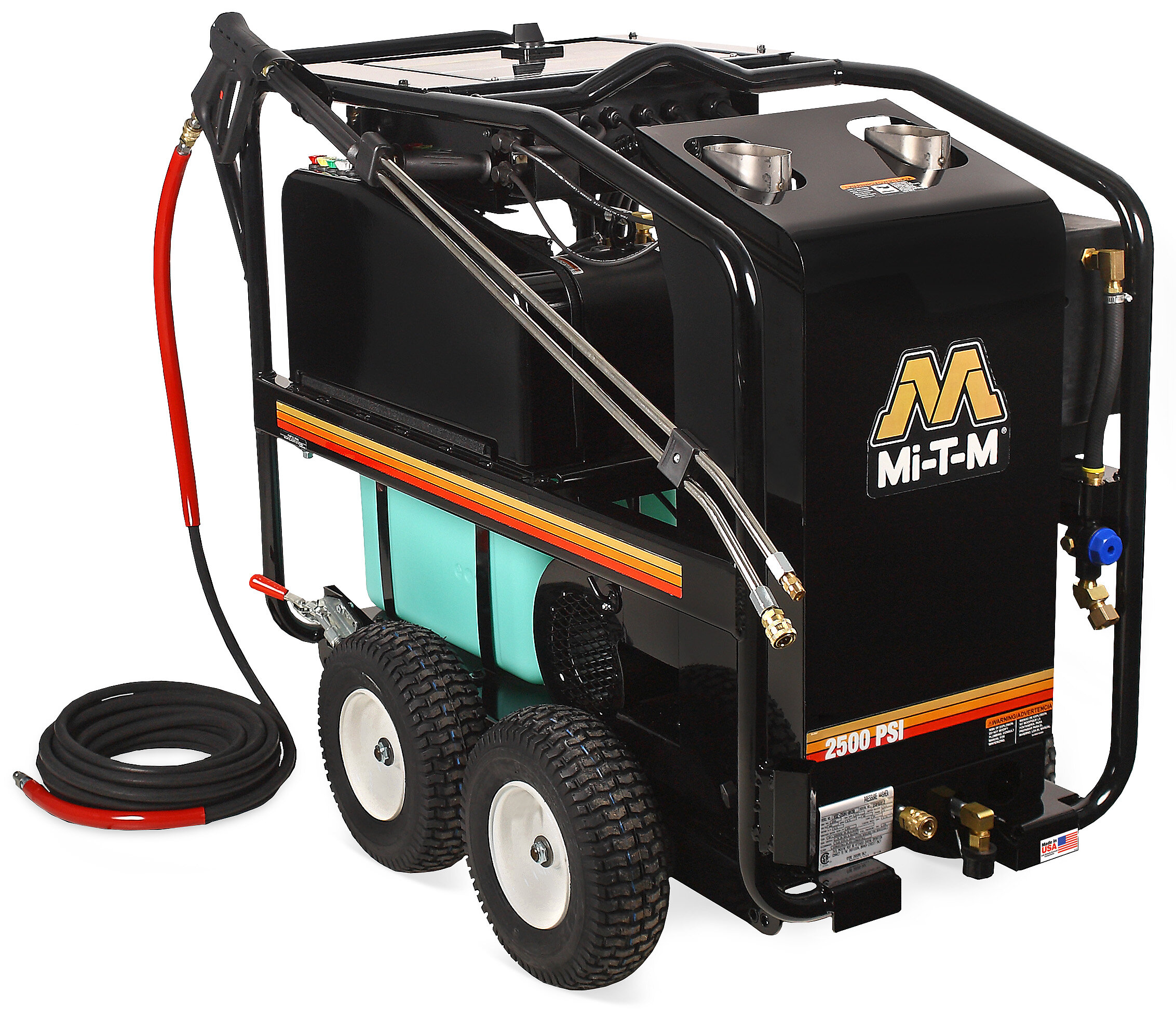 Grime, muck, grunge and grease – all tough to remove from surfaces.
When you want to sanitize an area, do you use hot or cold water? What about scrubbing dirty dishes? When trying to remove stains from clothing, do you select a hot or cold rinse? No doubt you answered hot to all three questions. When you have greasy stained surfaces, a heat setting makes sense for dishwashers, washing machines and other household appliances. The same is true for pressure washers.
Hot water is proven to be more effective at removing stains than cold water. Why? The hotter the temperature, the lower the surface tension of water. Hot water contains fast-moving particles. This means the molecules spread apart, making it easier to expand and then loosen a stain. In addition, hot water can cut through grease quickly and effectively kill bacteria and microorganisms.

Mi-T-M  Product Line
Our Mi-T-M pressure washer product line — both electric and gasoline-powered — includes many types of residential and commercial options. While cold water is perfectly fine for some applications, there are clear benefits of hot water pressure washers. It's important to know when to use a hot water pressure washer. Certain industries rely on the cleaning power of heat, including:
Construction – Big diggers and excavators are required to do some dirty jobs. The result is a build-up of mud, grime, oil and grease. A hot water pressure washer makes quick work of hard-to-remove, caked-on mud and grime.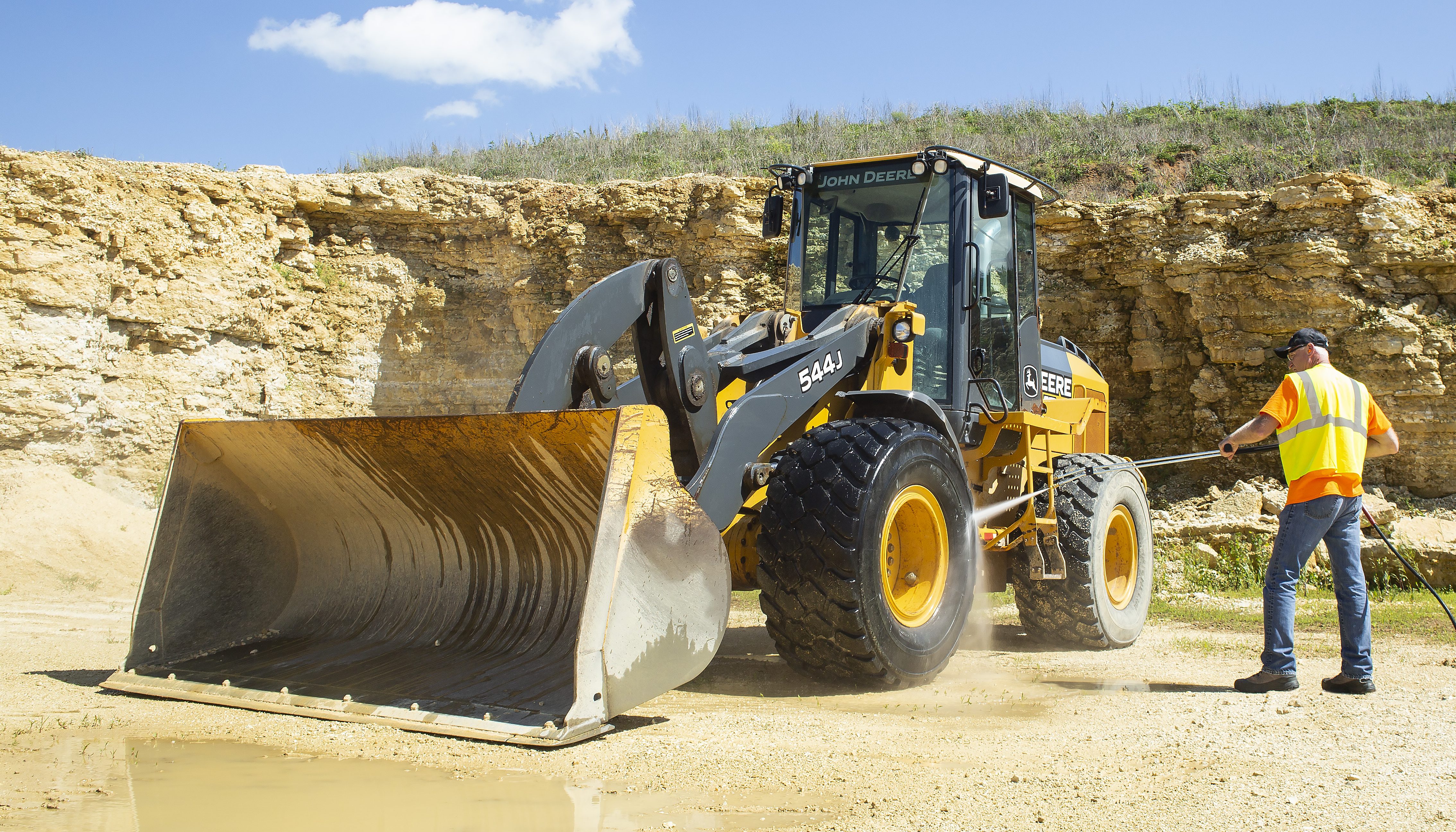 Food industry – Restaurants and wineries must meet the required standards to pass inspection. A hot water pressure washer can be used to properly clean and disinfect many different areas, including floors, kitchen hoods and ducts, outdoor seating and dumpster/waste areas. Hot water cleaning also requires less detergent, saving you money while protecting the environment.
Rental property – Need an effective method to clean the exterior of your rental properties? A Mi-T-M commercial hot water pressure washer is just the ticket. You can mount or transport one of our units in the back of a truck or one of our trailer units. Then, the washer becomes a portable cleaning machine. For decks and driveways, use one of our superior rotary surface cleaners.
Manufacturing – If your products leave a mess on the shop floor, our industrial-grade pressure washers can blast away the mess left behind. You can also take advantage of our many pressure washer accessories to target specific areas of your facility.
Trucking – Big rigs return from time on the road covered in crud, muck and filth. But you have a secret tool in your arsenal, a Mi-T-M hot water pressure washer. A hot water pressure washing can take care of any cleaning concerns. And, you can use it afterward to clean your shop floor!
Waste Management – Garbage and recycling trucks must pick up everything. That's why these machines need thorough cleaning and disinfecting. Hot water pressure washers can remove grease and caked-on dirt quickly and effectively.
As you can see, there are many benefits of hot water pressure washers. No matter what kind of business you run, we know you'll appreciate the strong power of our equipment.
At Mi-T-M, we manufacture products in our nearly 1 million-square-foot facility located in Peosta, IA. Once you purchase a product from Mi-T-M, we want to be sure you know how to properly use it.
Check out our many how-to videos to learn more. We're proud of our high-quality hot water pressure washers and know they'll help save you time, money, and stress. Contact Mi-T-M today.