Bidding Stadium Clean Up – Mi-T-M

Stadiums, arenas and sports venues are some of the most challenging jobs to bid due to their sheer size and complexity. Many cleaning businesses lose money on these types of jobs because of underbidding, which is easy to do unless you take every last detail into account.
Here are a few things to keep in mind while putting together your bid.
The overall size of a venue may be intimidating for many pressure washing businesses, but the most important aspect of bidding out a cleaning job is to ensure you have the right equipment. Making sure you're able to reach every surface that needs cleaning will determine the amount of time and energy you'll need to dedicate to the project.
Do you need a special lift or scaffolding to reach the underside of stadium seating? Not having the proper equipment could greatly hinder your ability to do the job thoroughly and efficiently.
Plan ahead and be sure to make note if there are any areas that require prep-work prior to cleaning. Are there other venue belongings or debris that could potentially obstruct your employees or equipment? Know the area well enough to foresee any obstacles you may run into.
If there are multiple areas to be cleaned within the same venue, it is generally wise to divide and conquer. By dividing a venue into zones, you're taking the first step in prioritizing the task at hand. There may be zones you place at a top priority, due to higher elevation. There may be other times where the venue's operations depend on you cleaning specified zones first, then moving on to zones that don't inhibit their preparations, such as a concession stand. Making sure you take the movement of venue patrons and equipment into account when performing this cleaning job could save you precious time and resources.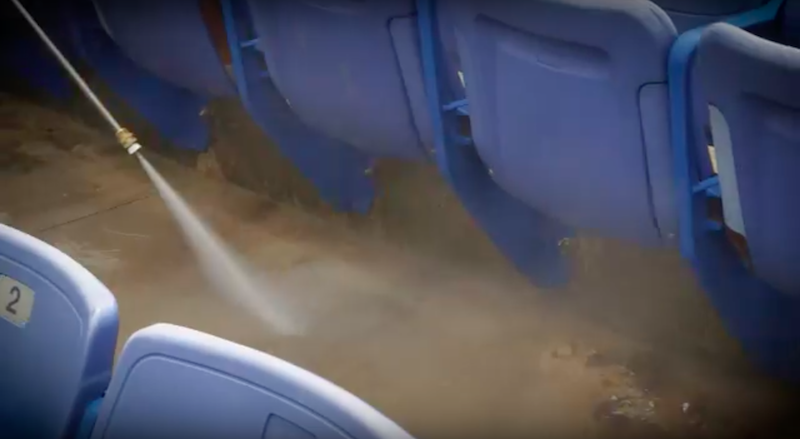 Cleaning after an event can be much more time consuming, especially if there was high attendance. Even if you're not responsible for trash removal, there may still be a significant quantity of spills, stains and crumbs to wash away. Knowing the approximate attendance of an event will allow you to adjust your bid, because smaller crowds generally require less cleanup and vice versa.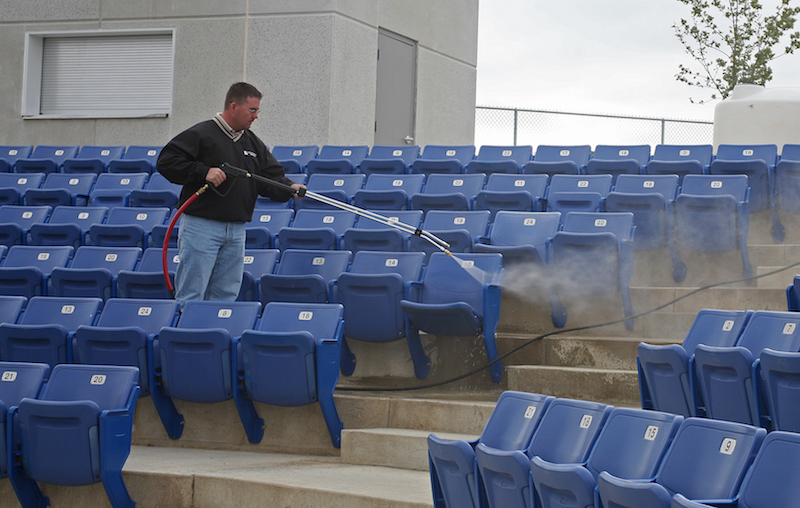 Consider any potential limitations you may have as it relates to chemicals or equipment. Regardless of the reason for the limitation, you'll need to know if you're able to offer an alternative solution and if it will add any additional time or cost to your bid.
There are other factors that can be taken into consideration when bidding a stadium, but the items outlined above are often overlooked. Mi-T-M dealers are experts when it comes to equipment and applications. Contact a Mi-T-M dealer near you for any additional advice you may need when bidding out such a large project.